Jerome Fournier Lanzoni
Joined
Profile Images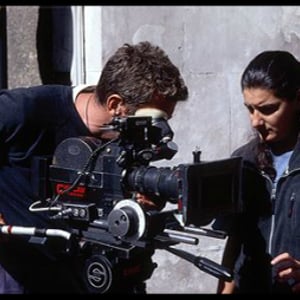 User Bio
In 1985 before the "push pixels" digital era Jérôme co-founded OZO-animation films with Lyon-based author Domenico Spano.
Jérôme attended the École Nationale des Beaux Arts in Lyon and initially trained as a sketch and watercolor artist, hetching on zinc aquatint. He also studied photography during this time, with "hands-on" training including negative processing and cinematography. Following his studies, he started his career as a décorateur (i.e., background artist) for animated films.
In 1987, he worked on a 35mm short film project with the highly renowned animated film studio "La Fabrique." These included the short film "Eli Al Kor" for the television show "De L'autre Cote" directed by René Laloux and presented by Léon Xuratas on Canal+, France 3 and WDR Germany. The original sound recording was delivered by Rachid Taha lead singer of "Carte de Séjour" band in 1987.
He later joined the Brizzi twins layout team to work on "Babar" in 1989 for Nelvana Canada. Following the Babar tele series, he participated as a background artist on numerous animated films and television series in both traditional and digital collaborations with several well known French post-production studios, Praxinos for "Asterix" , Pixi-Box, Dupuis Audiovisuel for "Flash Gordon", Media-Lab for "Princess of Nile" and " Trouble with Sophie"...
Jérôme continued his career in China, supervising a back-ground artists team in traditional for a 35mm animated film in Hong Kong and Nanjing "Robinson Sucroe" in 1995.
His work then took him to Los Angeles in 1996 where he began working in digital at Pic Itl a Pixibox BBC joint venture co production. In 1999, he became involved in visual concept art for full-length motion picture films with Ex-Machina. In 2000, he began working on a series of projects as a sketch artist visual development as an Art Director Ex-Machina- Square Japan: Final Fantasy, Doreamon.
He was the overall matte-painting reference supervisor for production designer Jean Rabasse on Pitof's film "Vidocq." That was followed by "Le Couperet" for Costa Gavras. He was also in charge of creating all matte-painting sequences for "Brides", a film produced by Barbara Defina and Terry Young. That was followed by the same role on "The Fall" in Paris with director Tarsem Singh.(Duboi).
His most visible and enjoyable work was on the Oscar-winning Roman Polanski film "The Pianist." Cannes Palme d'Or 2002. The project gave Jérome "carte blanche" to scan "encircled" positive takes from Éclair lab.
He was hired as a Lead matte painter by line-producer Alan Dewhurst at Pinewood Studios in 2003-2004 on Gerry Anderson's "The New Captain Scarlet Adventures" powered by a joint venture between Passion-Pictures and Double Negative. Additional matte-painting experiences includes work with, Passion-Pictures, MPC, The Mill and other London facilities.
Matte-Painting supervisor in Chennai, India 2006 with late Vfx Brian M. Jennings (1958-2015), he joined legendary studio Pdi-Dreamworks Animation in San Francisco on "Shrek the Halls" (Tv special )
and "Madagascar 2" from 2007-2008 and extending his bay area network in 2009.
This body of work was followed by Psyop-tv, Mass Market in New York in 2009 and trailer development for "Monster in Paris" Wtd, and "The Borgias" for RiseFx-Canal+.
In 2011, Jérome developed a personal project by filming a documentary film in Cuba titled "Break Fast." while a Camera and Lenses workshop at EICTV school of Cinema Tv and Media journalism in Cuba.
Jérôme works on various projects as an Art Director and Director of Photography for media content, and lectures in Europe and Asia.
Related RSS Feeds