Jerome Fournier Lanzoni
Joined
Profile Images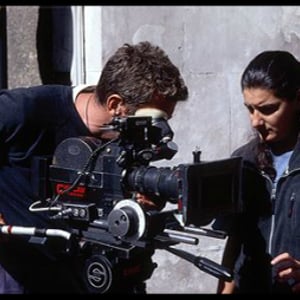 User Bio
Before "pushing Pixels" Jerome co-founded Ozofilms-animation with authors Domenico Spano Eric Didier, and Frederic Saurel in Lyon back in 1986.


Trained as a painter and etcher on zinc, he started animation film as a background-artist and camera operator in 35mm for animation in 1987.

 In 1989 he joined the famous Studio Brizzi brothers animation team before they were merged by Walt Disney in Paris on "Babar" Nelvana serie.
From 1990 he worked on visual development as a background environmental artist "Decorateur " La Fabrique, Praxinos, Pixi-Box,
France-animation, Saban intl, Dupuis audiovisuel, MediaLab, Ex-Machina, RF2K.


Background supervisor in China for traditional acrylic painted back-grounds Nanjin,1995 and as Background artist P.I.C North Hollywood, CA 1996.

In 1999 he became more involved into Visual concept art development for live action films at Ex-Machina/Thomson.

In 2000 he worked as a sketches artist for matte painting references with Production designer Art Director Jean Rabasse on "Vidocq".


His best work was at Eclair for Roman Polanski "The Pianist" Oscar winner 2001.
Costa Gavras "Le Couperet", PantelisVulgaris Nyfes "Brides".


Lead Matte painter and worked closely with Line producer Alan Dewhurst at Pinewood Studios in 2003-2004 for the new Gerry Anderson's "Captain Scarlet".


Jerome was a hands-on at Scarlet Digital,Passion Pictures, MPC, The Mill.
Before joining San francisco bay area Pdi-Dreamworks animation 
jerome was a Matte painting Supervisor in India ,Chennai 2006 
for a LA based motion picture film, "First Fear" with Vfx supervisor Brian M. Jennings. 

Matte paintings on "Shrek the Halls" Dreamworks animation,CA 2007.
"Madagascar2" Pdi-Dreamworks animation,Califonia 2008.

"Syncforce" Psyop-tv,New York 2009
.
"Un Monstre a Paris",
"Borgia","Hugo" 2011.
Visual development colourscript. Cinematographer.
Related RSS Feeds