Nic Bello
PRO
Joined

Location

Los Angeles
Profile Images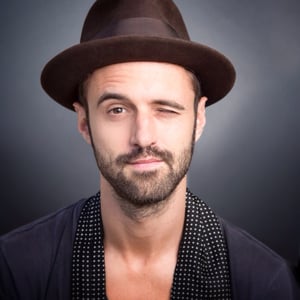 User Bio
When I was a little boy I used to say: "when I'll grow up I'd love to be an astronaut or a
movie director". For practical matters I chose the second one.
My name is Niccolò Bello, I was born and grew up in Turin where I earned a degree in
Architecture. I then went to London to attend a Directing Course at St. Martin's School.
This passion started as a kid helping my father (who was having a shot at movie making) in
shooting and assembling short films that used to have as theme the most famous fairytales.
In 2002 I transmit my direction and acting knowledge to the Bugs team, co-founded with
Jacopo Morini, Francesco Granieri and Tiziano Lamberti; we create a website of
entertainment named "Bugstv", that after a few month will lead us to the tv show "Le Iene"
on Italia 1. I didn't follow the procedure as many people do in order to become a movie
director, but I always had the capability of making funny things happen and shoot them with
my videocamera.
Alongside my television work, I start my career as a director and dedicate myself to the
realization of viral commercials, exploiting the direction techniques and combining them
with my knowledge in the communication field acquired working on television. In 2012
I act in a commercial realized by Saatchi & Saatchi for the Onlus "Il ponte del sorriso"
("The bridge of smile"), as the cruel character auditioning children. The operation is
successful and I gain a prize for the best media message in favour of childcare. In-between
my direction work and the Iene show I move on with some serial formats for the web and I
make a documentary on Lucio Dalla and Francesco De Gregori tour, that is sold together
with the album.
I currently live in Milan, where I keep working with my usual pinch of irony and cynism,
characteristics that go with my work from my very first steps.
Quand'ero piccolo dicevo sempre: "da grande vorrei fare l'astronauta o il regista". Per praticità scelsi la seconda. Mi chiamo Niccolò Bello, sono nato e cresciuto a Torino dove ho conseguito la laurea in architettura. Sono andato a Londra a fare un corso di regia alla scuola St. Martin. Questa passione mi è nata quand'ero piccolo aiutando mio padre (che si improvvisava regista) a girare e a montare dei piccoli cortrometraggi che avevano come tema le fiabe più celebri. Nel 2002 proietto le mie conoscenze registiche e interpretative nel gruppo Bugs cofondato insieme a Jacopo Morini, Francesco Granieri e Tiziano Lamberti e creo con loro un sito di intrattenimento "Bugstv" che dopo pochi mesi ci fa approdare alla trasmissione "Le Iene" su Italia 1. Non ho seguito l'iter che tutti seguono per diventare registi ma ho sempre avuto l'attitudine a far succedere cose divertenti e riprenderle con la telecamera.
In parallelo alla televisione inizio una carriera di regia e mi dedico alla realizzazione di spot virali sfruttando la tecnica registica abbinata alle conoscenze nel campo della comunicazione acquisite lavorando in televisione. Nel 2012 interpreto uno spot realizzato da Saatchi & Saatchi per la onlus "Il ponte del sorriso" nei panni di un crudele personaggio che fa casting ai bambini. L'operazione ha successo e vinco un premio per il migliore messaggio mediatico a favore dell'infanzia. Tra un lavoro di regia e un servizio delle Iene porto avanti alcuni format a puntate per il web e realizzo un documentario della tournée di Lucio Dalla e Francesco De Gregori che viene venduto assieme all'album. Attualmente vivo e lavoro a Milano sempre con un pizzico di ironia e di cinismo caratteristiche che accompagnano il mio lavoro fin dai primi passi.
Related RSS Feeds