FIX 3 STRIKES
Plus
Joined

Location

Washington State
Profile Images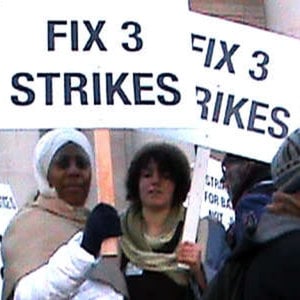 User Bio
Washington is the first 3-Strikes state in the nation. The punishment under 3-Strikes in this state is 777 years, 77 months, and 77 days, with no possibility of release. The most common conviction leading to this sentence is Robbery 2 -- a crime with a standard sentence of 3 months to 7 years that is classified in the lowest quarter of criminal seriousness under state law. Fully a third of the people serving this sentence have no convictions for any crime classified under state law as a Serious Violent Offense. Most -- if not all 3-Strikers -- are poor. Our state's public defense system is seriously underfunded.
The state is less than 4% Black. Our state prison population is about 20% Black. Our 3-Strikes population is 40% Black.
There have been bills in the legislature to reform this law for over 10 years. The state's Sentencing Guidelines Commission recommended reform back in 2001.
Only a public outcry can get this reform to happen. See fix3strikes.org for organizations supporting reform.