J. Michael Roddy
Joined

Location

Orlando, Florida
Profile Images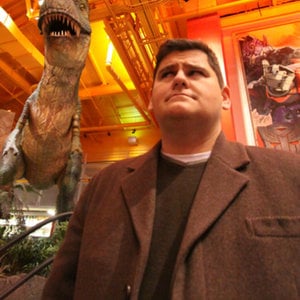 User Bio
I am a Creative Director living in Orlando, Florida. Please contact me if you have any questions. Thank you in advance for any opportunities and support.
J. MICHAEL RODDY
(407) 496-1196
Winter Garden, Fl 34787
E-Mail: jmichaelroddy@me.com
"The more you do… the more you get to do!"
Experience: Development of Entertainment from initial concept through production. Successful in the areas of Concept Development, Scripting, Event Design, Casting, Show Design (including Audio and Video Production), Show Direction, and Marketing of Entertainment properties.
Universal Orlando
Manager of Show Development 2007 – Present
Provide Creative Direction for Entertainment, including all Special Projects, Marquee Events and new park entertainment offerings.
Partner with Directors of Design, Director of Production and Director of Talent Booking to provide new, innovative concepts for Universal Orlando Resorts.
Creative Director for HALLOWEEN HORROR NIGHTS 2006 - 2009.
Developed Halloween Horror Nights 2010.
Created and developed CITYWALK'S RISING STAR club offering at Universal Orlando Resorts, taking an existing club venue and transforming it into a successful entertainment offering.
Wrote and Directed the live concert experience – MANNHEIM STEAMROLLER CHRISTMASVILLE LIVE. The experience included overseeing the creation of multimedia development.
Created, Wrote, and Directed new Seuss Musical experience for Islands of Adventure – HOW THE GRINCH STOLE CHRISTMAS. Responsibilities also included casting and musical direction, partnering with Chip Davis and Mannheim Steamroller.
Show Director 2005 - Present
Show Director for UNIVERSAL ORLANDO RESORTS. Duties include concept development, scripting, casting, staging and maintenance of new and current Universal Orlando entertainment offerings.
Creative Development for HALLOWEEN HORROR NIGHTS CARNIVAL OF CARNAGE, including creative direction involving New Line Cinema's House of Horrors characters.
Creative development of HALLOWEEN HORROR NIGHTS – SWEET SIXTEEN, including marketing opportunities, conceptual design and media content.
Creative development of UNIVERSAL 360 – A CINISPHERE SPECTACULAR including media development and overseeing video edit.
Wrote and Directed the new BEETLEJUICE'S GRAVEYARD REVIEW for Universal Studios.Duties included musical direction, scripting, staging and casting. The product generates continual superior ratings and won the Big E Best Show Award at IAAPA 2007.
Finatic Films – The Shark is STILL Working 2005
Producer
Producer of the upcoming Documentary – THE SHARK IS STILL WORKING: The Impact and Legacy of JAWS. Duties included scripting, securing and coordinating interviews with key production and talent including Steven Spielberg, Roy Scheider, Richard Dreyfuss and many more. Also responsible for marketing, website content, budget, creative direction and structure. sharkisstillworking.com

JAWSFest - Martha's Vineyard Chamber of Commerce 2005
____Creative Consultant
Development of three-day event based on the 30th Anniversary of the film JAWS. Created marketing and advertising opportunities. Scripted and Directed several entertainment events, working closely with Universal Home Video and celebrity talent. Event gained International publicity including appearances on all three major U.S. Networks.
Walt Disney Entertainment 2004 –2005
____Show Director
Scripting, Show Direction and Development for various events and shows including; ABC SUPER SOAP WEEKEND, ADVENTURES BY DISNEY VACATIONS, THE MUPPETS, STAR WARS WEEKENDS, HP EVENT, AMERISOURCEBERGEN, RTNDA Las Vegas Media Launch, and POWER RANGERS.
Anheuser-Busch Entertainment 2003 - 2005
Freelance Creative Consultant/Writer/Show Director
Writer/Show Director for HAUNT ME BABY ONE MORE TIME – Musical comedy show at Busch Gardens Tampa Bay.
Writer/Show Director for NIGHTSCARES show at Busch Gardens Williamsburg Howl-O-Scream – The show included elements of illusions, dance, multi-media and special effects including pyro and illusions.
Writer/Show Director for DEPRAVED REALITY – Musical comedy show at Busch Gardens Tampa Bay. The Show Received Superior ratings.
Concept Development for shows in various Anheuser-Busch parks.
Writer/Director for ETERNAL REWARD Show at Busch Gardens Howl-O-Scream. The show received superior ratings.
Writer/Director for Employee orientation video.
Created and developed the marketing Icon for the 2003 Howl-O-Scream event at Busch Gardens Tampa Bay. Wrote and Directed the Howl-O-Scream Media Event for 2003.
Universal Creative 2003
Freelance Writer/Creative Consultant
Concept development for SHREK Live stage show. Scripting of the queue video and backstory for The MUMMY: REVENGE OF THE MUMMY Attraction at Universal Studios Florida. Creative Consultant for new attraction at Universal Studios Shanghai.
Mirage Entertainment 2003 - 2005
Writer/Show Director
Wrote and Directed the Children's show TALES OF THE FROG PRINCE for Dutch Wonderland, including elements of acrobatics and diving. The show was nominated for a Big E Award at the 2004 IIAAPA Convention.
Wrote and Directed the Ski-Show EVOLUTION for Geauga Lake Ohio. Wrote the GREAT AMERICAN WESTERN ICON stunt show for WB Movieworld Germany. Provided Concept Development, and Scripting for KING NEPTUNE'S SEATACULAR at MarineWorld San Francisco. Show included elements of live animals and circus acts as well as comedy
Oak Island Productions 2003 - 2005
Freelance Writer/Director
Design of marketing collateral for Oak Island including projects for Paramount parks.
Designed the Icon art and logos for HAUNTED HARVEST at Hershey Park, PA
Concept and Design of Mazes for HAUNTED HARVEST at Hershey park, PA
Scripted the RUINS OF SLEEPY HOLLOW for Lowry Park Zoo Halloween 2003
Universal Studios Florida:
Entertainment/Show Development 1993 - 2002
Creative Manager/Manager of Show Concepts and Scripts
Manager of Show Concepts and Scripts including Scripting, Casting, Directing, and maintaining high-profile Attractions, Live Shows featuring stunts and choreography, and Special Events:
Responsible for Creating and developing the initial Concept
Guide the Development of the Concept through the Scripting process
Manage contracted writers or develop and author the script
Supervise and direct the art direction, audio, and video elements throughout the production
Stage and Direct the Production
Create Entertainment moments for use by Marketing and Publicity
Show Director/Writer/Concept Development
E.T. 20th Anniversary featuring NASA, the Space Station and Steven Spielberg
SHREK THE HALLS – A fairy Tale Christmas
Concept Designer HALLOWEEN HORROR NIGHTS 1996 - 2002
BILL & TED'S EXCELLENT HALLOWEEN ADVENTURE 1998 - 2002
MIB Grand Opening featuring Will Smith & Rip Torn
Universal's Islands of Adventure London Preview Travel Markets
BARNEY: A Barney Christmas 95 & 96
Provided Scripting, Development and Direction for over 150 Special events and experiences.
Walt Disney Attractions Television: Orlando Fl 1998
Writer
SECRETS OF THE ANIMAL KINGDOM - Television Series
"Predators on the Prowl", "Animal Super Powers", "The Scoop on Poop" "Can We Talk", "Animal Senses"
Related RSS Feeds
Recent Activity
This is fantastic. Is there a way to get a copy of this? jmichaelroddy@Me.com