TanzLaboratorium
Joined

Location

Kyiv, Ukraine
Profile Images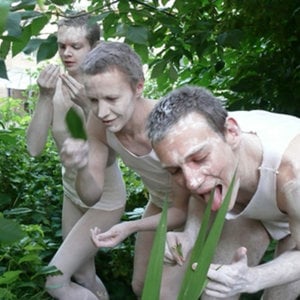 User Bio
TanzLaboratorium is an independent performance group that works with time in given, randomly found or consciously chosen spaces. The group's artistic strategy manifests itself in permeating the gaps between contemporary art forms and destructing the linguistic conventions of these forms.
TanzLaboratorium views art as life's process being actualized through performativity. Performativity in this case means a particular mode of artistic activity that somehow thematizes temporality.
The group realizes its artistic practice primarily through working with the body as medium, with its own body-consciousness and body-imagination. The body is not used as an instrument but acts as the image author and critical agent for thinking. Physical practice is regarded as a method of critical analysis, and dance – by investigating its perception – becomes a way of thinking.
TanzLaboratorium is not concerned with progress or the future – whether better, happier, freer or apocalyptic. The group is interested in practices that enable movement toward the past, and precede art.
Selected performances :
"Quetzalcoatl" 2006
"Kurbas. Reconstruction" 2007
"Recreation" 2007, was made at Schloss Broellin, Germany in frame of Artists in Residents program
"Event" 2008, collaborative project with pianist Yevhen Gromov (music by Karlheinz Stockhausen)
"Proprius" (dance piece with music by Karlheinz Stockhausen) 2008
"Clinamen" 2008-2009
"Value" - project in collaboration with Transforma (Swedish dance group) presented in Ukraine and Sweden in February-May 2009
"Laboratory work #1" 2010
"BUZA" 2010, 2013
"Headless" 2010, 2012
"Use your head to build!" 2010
"10.10.10" 2010
"Laboratory work #2" 2010
"Dance as time" (Laboratory work #3) 2011
"LOVE-scape", performance made for the opening of the exhibition "Journey to the East", Gallery Arsenal, Bialystok, Poland. 2011
"(as if) Panopticon" – performance, video, installation – exhibited at "Impossible Community" exhibition, Moscow Museum of Modern Art, Moscow, Russia. 2011
"Risk Assessment" (in collaboration with Jeremy Deller) - video, photo documentation of actions in the public space - exhibited at "Impossible Community" exhibition, Moscow Museum of Modern Art, Moscow, Russia. 2011
"Post Ukrainian body" video, installation, performance at Special Project "Double Game", "Arsenale 2012", Kyiv, Ukraine, 2012
"Cruelty of possibility", 2011, 2012, 2013
Documentary theatre "Expertise" 2013
"Post Ukrainian body" 2013
"Negative form of presence. Laboratory work #4" 2013
Festivals :
Kyiv Music Fest (Kyiv) 2006
ECITE (Haslach, Austria) 2006
Laboratory of performance (Kyiv, Ukraine) 2007
Festival "ART-ALTERNATYVA" (Donetsk, Ukraine) 2008/2010
Underground Theatre Festival (Arad, Romania) 2008/2009
GogolFest (Kyiv, Ukraine) 2008
Black/North Seas Festival (Odessa, Ukraine), participation in "Black Sea Oracle Game"(performance installation of SIGNA (Denmark) 2008
2days&2nights of New Music (Odessa, Ukraine) 2009
INFANT (Novi Sad, Serbia) 2009
Dni Sztuki Wspolczesnej (Bialystok, Poland) 2010
Tyzhden/Week of Contemporary Art (L'viv, Ukraine) 2010, 2013
Spielstrasse/Strassen (Kyiv, Ukraine) 2010
Maska plus (Moscow, Russia) 2011
Exhibitions:
"Journey to the East", curated by Monika Szewczyk, Gallery Arsenal, Bialystok, Poland. 2011
"Impossible Community", curated by Viktor Misiano, Moscow Museum of Modern Art, Moscow, Russia. 2011
"Labour show" curated by HUDRADA, Visual Culture Research Centre, Kyiv, Ukraine 2011
"Women's workshop", exhibition organized by "Feminist Ofenzyva", Centre for Visual Culture Research at Kyiv-Mohyla Academy, 2012
1st Kyiv International Biennale of Contemporary Art "Arsenale2012", Special Project "Double Game" curated by O. Soloviov, museum complex "Mystetskyi Arsenal", Kyiv, Ukraine 2012
"Disputed Territory" curated by HUDRADA, Sevastopol Art Museum in Crimea, Ukraine 2012
Residences:
Artists in Residence (Les Kurbas National Theatre Arts Center, Kyiv, Ukraine) 2006-2010
Artists in Residence (Schloss Broellin, Germany) 2007
Artists in Residence (Burdag Foundation, Poland) 2011
Artists in Residence (Atelier ReAl, Portugal) 2012
Artists in Residence (PAF, Saint Erme, France) 2013
TanzLaboratorium has been organizing the annual Art-educational project "Performativity"
performativity.org
Related RSS Feeds