Cristiano Donzelli
Joined

Location

Rome - ITALY
Profile Images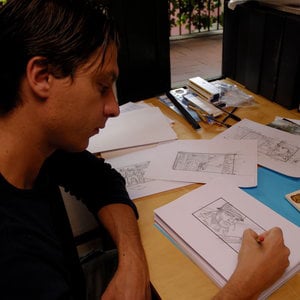 User Bio
After graduating from Art High School in 1987, Cristiano Donzelli worked for the Comic Book company Granata Press.
In 1995 in Los Angeles he worked as Conceptual Artist and Storyboard Artist on two films production designed by Eugenio Zanetti, "Warriors of Virtue" directed by Ronnie Yu, and "The Jetsons" directed by Joe Dante.
Back in Italy, he worked on various different Italian television productions. This gave him unparalleled insights into the SFX and creative aspects of the film-making process, working mostly with one of the greatest Italian television movie directors, Alberto Negrin.
During this time Cristiano continued to work for large American productions, creating storyboards for the movies "Double Team", directed by Tzui Hark, and "Titus" directed by the American theatre director Julie Taymor. On this occasion he had the good fortune to work with the production designer Dante Ferretti and to cultivate a very good professional relationship with him.
In 1998 Cristiano returned to Los Angeles to work again with Eugenio Zanetti on the movie "The Haunting" directed by Jan De Bont and produced by DreamWorks.
After that he was involved in various projects, including music videos, animations and commercials and worked with Michael Bay, creating the storyboards for three Levi's Jeans commercials.
During this period Cristiano created, with Tanino Liberatore, the design of the characters for a French animation TV serial, "The G-Shifters".
A year later Cristiano moved back to Italy, working on projects including "U-571" directed by Jonathan Mostow, "The Order" directed by Brian Helgeland, and "Gangs of New York" directed by Martin Scorsese.
The last big projects he has been involved as storyboard artist are the Ridley Scott's "The Kingdom of Heaven" and "Miracle at St. Anna" by Spike Lee.
After that Cristiano Donzelli has produced, written and directed his first short film, "A wolves' Tale", with one of the most famous italian actor, Franco Nero.
Filmography as Producer and Director:
2008-2009
"A Wolves Tale" - Short Movie - Drama/Mystery – min: 27' 20''
"Life" - Commercial – min: 01' 30''
"Winx - Lisciani Giochi" - Commercial – min: 20''
"Carotina Super Bip - Lisciani Giochi" - Commercial – min: 20''
"Computer Educativi - Lisciani Giochi" - Commercial – min: 20''
"Gazza Quiz - Lisciani Giochi" - Commercial – min: 20''
"Astronave ABC - Lisciani Giochi" - Commercial – min: 20''
"Raicam-Fiat" - Commercial – min: 02'
"Immaginare Teramo" - Commercial – min: 01'
"Raccolta Differenziata - Provincia di Teramoi" - Commercial – min: 01'
Filmography as Illustrator and Storyboard Artist:
2009
"The American"
Director: Anton Corbijn
Production Designer: Mark Digby
"Memories of Anne Frank"
Director: Alberto Negrin
Production Designer: Luciano Ricceri
"Pane e Libertà"
Director: Alberto Negrin
Production Designer: Luciano Ricceri
2008
"Miracle at St. Anna"
Director: Spike Lee
Production Designer: Tonino Zera
"Il Cosmo sul Comò"
Director: Marcello Cesena
Production Designer: Paolo Monzeglio
"K il Bandito"
Director: Martin Donovan
Production Designer: Andrea Crisanti
2007
"Two Tigers"
Director: Sandro Cecca
"L'ultimo dei Corleonesi"
Director: Alberto Negrin
Production Designer: Luciano Ricceri
2006
"The Nativity Story"
Director: Catherine Hardwicke
Production Designer: Stefano Ortolani
"Antonio, Guerriero di Dio"
Director: Antonello Bellucco, Sandro Cecca
"Gino Bartali – L'intramontabile"
Director: Alberto Negrin
2005
"The Kingdom of Heaven"
Director: Ridley Scott
Production Designer: Arthur Max
"Giovanni Paolo II"
Director: John Kent Harrison
Production Designer: Pierluigi Basile
"Rome"
Director: Michael Apted – Allen Coulter – Alan Poul
Production Designer: Joseph Bennett
"Il Cuore Nel Pozzo"
Director: Alberto Negrin
Production Designer: Giantito Burchiellaro
2003
"Under The Tuscan Sun"
Director: Audrey Wells
Production Designer: Stephen Mc Cabe
"The Order"
Director: Brian Helgeland
Production Designer: Miljen Kljiakovic
"ICS"
Director: Alberto Negrin
Production Designer: Nino Formica
"My House in Umbria"
Director: Richard Loncraine
Production Designer: Luciana Arrighi
"Imperium: Augustus"
Director: Roger Young
Production Designer: Carmelo Agate
2002
"Gangs of New York"
Director: Martin Scorsese
Production Designer: Dante Ferretti
"Perlasca"
Director: Alberto Negrin
Production Designer: Giantito Burchiellaro
2001
"In Love and War"
Director: John Kent Harrison
Production Designer: Veronica Hadfield
"Mari del sud"
Director: Marcello Cesena
Production Designer: Gianni Giovagnoni
"PC and the WEB"
Director: Chris Cain
Production Designer: Joe Alves
2000
"U-571"
Director: Jonathan Mostow
Production Designer: William Ladd Skinner
1999
"Titus"
Director: Julie Taymor
Production Designer: Dante Ferretti
"The Haunting"
Director: Jan De Bont
Production Designer: Eugenio Zanetti
"Simpatico"
Director: Matthew Warchus
Production Designer: Amy B. Ancona
"Excellent Cadavers"
Director: Ricky Tognazzi
Production Designer: Andrea Crisanti
"Nanà"
Director: Alberto Negrin
Production Designer: Danilo Donati
"Wasteland-Terra bruciata"
Director: Fabio Segatori
Production Designer: Paolo Innocenzi
1998
"I Guardiani del Cielo"
Director: Alberto Negrin
Production Designer: Giantito Burchiellaro
"Doppio Segreto"
Director: Marcello Cesena
Production Designer: Luigi Marchione
1997
"Mortal Kombat II Annihilation"
Director: John Leonetti
Production Designer: Charles Wood
"Warriors of Virtue"
Director: Ronnie Yu
Production Designer: Eugenio Zanetti
"Double Team"
Director: Tsui Hark
Production Designer: Marek Dobrowolsky
"The Jetsons"
Director: Joe Dante
Production Designer: Eugenio Zanetti
COMMERCIALS
"Levi's Jeans"
Director: Michael Bay
"Elizabeth Arden"
Director: Michael Hausmann
"Filodoro"
Director: Michael Hausmann
"Martini"
Director: Michael Hausmann
"Poland Water"
Director: Michael Hausmann
"Ringo"
Director: Michael Hausmann
"Tim"
Director: Daniele Lucchetti
"Jeep"
Director: Michael Hausmann
Related RSS Feeds