daria fain
Plus
Joined

Location

Brooklyn, New York
Profile Images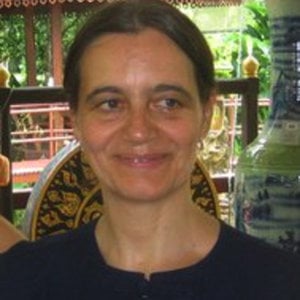 User Bio

Daria Faïn is an acclaimed New York choreographer originally from Antibes, France. Her choreography fuses her European cultural background with two decades of practice in Asian philosophies of the body and American dance training. She is a Chi Kung practitioner since 1990, her teachers includes Karfung Wu, Dr Jian, and she became a Universal Tao Instructor in 2001. The practice of Chi Kung has a major influence in her movement technique that she applies to dance and for therapeutic purpose. Faïn has also extensively researched the reciprocal influence that architecture and human behavior have on one another, and has given several lectures on Swiss-born modern architect and urbanist Le Corbusier. Over the years Faïn's choreographic research has led her to work with psychotics, patients with other mental disorders, and blind-deaf individuals, leading to a complex understanding of the body as a resource of knowledge.

In New York, Faïn's work has been presented at Dance Theater Workshop, The Kitchen, Danspace Project, PS-122, and the 92nd Street Y, among many other venues. Over the course of her career, she has presented 15 evening-length performances and numerous other short works and installations. She founded, designed, and built the multidisciplinary arts center and performance space Atelier Trigon with architect/poet Robert Kocik in Paris in 1990, and served as its Co-Artistic Director from 1990-1994. In 2000, Faïn founded the dance company Human Behavior Explorers, and in 2008, with Kocik, she launched the 501(c)3 non-profit organization Universal Coverage Initiative. Inc.

In 1979, Faïn received the Cultural Ministry Award from the Concours Internationale de Choregraphie de Bagnolet (France). In 1986 she received a special fellowship from the French Ministry of Urbanism's Architecture Research Section. She has been awarded numerous grants from the French Ministry of Culture (1984-1986-1994). She has also received a grant from the New York State Council on the Arts (1994). Fain's work has been commissioned by the Foundation Cartier (Paris - 1996), the Ecole de Beaux Arts (Paris - 1996), and Marseille Objectif Danse (Marseille, France 2001 - 2004). Her Projects received funding from: Hip Up Foundation, American Music Center: Live Music for Dance, New York State Cultural Affairs, James E Robison Foundation, the Foundation for Contemporary Arts and the Lower Manhattan Cultural Council.

Faïn has been a faculty member at Movement Research since 2005, and she has taught master classes and workshops at institutions across the United States, including the The Tao Garden, Trisha Brown Studio, New York University, Tulane University, Adelphi University, Rutgers University, Cooper Union, Sarah Lawrence College and international Festivals in Europe. Her writing has frequently been published in the Movement Research Performance Journal.
Related RSS Feeds