Laura Carriker
Joined

Location

Seattle, WA and Paris, France
Profile Images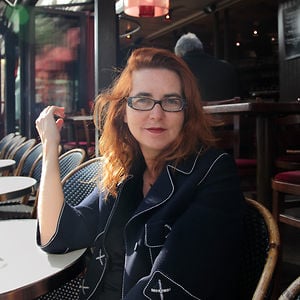 User Bio
25 years global filmmaking experience. Storyteller, Cultural bridge builder, Social Activist through film, Entrepreneur. Works in both French and US independent film industry.
Can pull amazing story from any situation. Fearless. Personable. Curious. Creative. Playful. Collaborative. Loves to entertain and reveal deeper meaning simultaneously. Skilled at making people look their best, sound their best and reveal their heart/intelligence. Great at creating wildly successful fundraiser and campaign videos for not for profits she believes in.
Documentary directorial experience around the globe, specializing in NGO work in the developing world. Projects include telling the story of relief after natural disasters in Haiti (visited 13 times, filmed Sean Penn's J/P HRO camp), Peru, Bangladesh, Philippines, Mexico, and Kenya.
Over 3000 hours of footage shot over 5 years. Project in post production.
Amazing natural interviewing skills. Intelligent questions. "I forget there was a camera rolling. It felt like we were just talking"
Strong vision. Can follow threads of story in organic way while in the field. Investigative reporting experience. Cultural sensitivity and deep respect for non-western traditions.
Other projects dedicated to building peace and understanding between USA and Middle East include series in Lebanon, UAE, Saudi Arabia, Jordan and Yemen.
Current projects include post production of "Ramadan at the Cozy Inn" a feature documentary shot in a road side motel in Maine and pre-production of her first narrative feature film entitled, "Je rêve seulement en français" - a story of young love taking place in Paris.
Ongoing environmental activism project documents the reclaiming of the rainforest of Colombia. It is entitled , "Colombia Love Story" and reveals the Carriker family legacy in the Sierra Nevada de Santa Marta region of Colombia (Carriker Bird Sanctuary), highlighting work of her world famous grandfather, an Ornithologist for the Smithsonian.
Related RSS Feeds