Faith Granger
Joined

Location

Los Angeles, CA - USA
Profile Images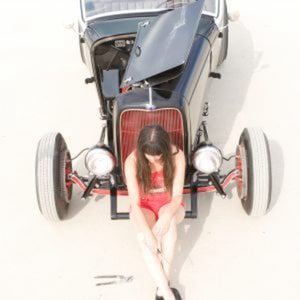 User Bio
Looking back I can say that my entire life has been dedicated to the pursuit of artistic expression. Starting with my picking up a guitar in my grandmother's attic at age 6 and teaching myself to play it, and soon to write my own songs...
Having pursued music all my life, I finally decided to take a break from it a few years ago to experiment with cinematography.
Making films was to become the most fulfilling creative endeavor I have ever undertaken. By far surpassing music (since it encompasses it), photography (which I enjoy doing), writing and performing... It brings together all the above media and the whole becomes bigger than the sum of the parts, as the movie itself becomes its own ENTITY and takes a life of its own.
In 2007, after completing a home made one hour documentary on 1932 roadsters, it suddenly dawned on me that making a full feature film next would be the most exciting, challenging adventure to date. And I believed I could pull it off. What seemed to be a very crazy idea stuck and 3 weeks later I dived in.
A self taught cinematographer, D.P, director, writer, I found that I quickly got the hang of it and after completing a short film (THE PARK BENCH) to practice my new craft, I felt ready to start rolling on my hotrod full feature period film DEUCE OF SPADES.
I am a self contained filmmaker who does everything herself. Basically I will: Write the script, cast the actors, scout the location, secure the props, wardrobe, haul the gear, do the lighting, set-up the camera and shoot, pull my own focus, do all my shots myself, direct, monitor the sound, do the wardrobe hair and make up as well as special effect make up and FX, I will also edit and compose the soundtrack.
As insane as all above may sound, it has WORKED for me.
I love being involved with every aspect of the making of my film. A "DIY" kind of person, I love learning and look forward to growing and improving my skills at cinematography.
My film DEUCE OF SPADES (a 3 year project / commitment) is now 95% completed and was just listed on Netflix. The fact that I am so self contained allowed me to do the film on a no-budget basis, without involving financial investors, which basically means I am creatively FREE.
As a filmmaker, I love making dramas, low key lighting, low fill ratio, moody shots, shallow DOF, and film look. My goal is to make films that make you FEEL through both story and cinematography.
I look forward to sharing my work and vision with you and also to networking.
Blessings,
FAITH GRANGER
Filmmaker
Related RSS Feeds