Karen Bentley Pollick
Joined

Location

Evergreen, Colorado
Profile Images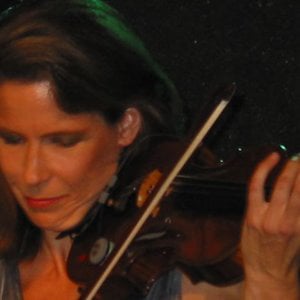 User Bio
Karen Bentley Pollick has performed as violinist with Paul Dresher's Electro-Acoustic Ensemble since 1999 and performs a wide range of solo repertoire and styles on violin, viola, piano and Norwegian hardangerfele. A native of Palo Alto, California, she studied with Camilla Wicks in San Francisco and with Yuval Yaron, Josef Gingold and Rostislav Dubinsky at Indiana University. She graduated with Bachelors and Masters of Music Degrees in Violin Performance. She has several recordings of original music, including Electric Diamond, Angel, Konzerto and Succubus and Ariel View, for which she has received three music awards from Just Plain Folks, including Best Instrumental Album and Best Song. On her own record label Ariel Ventures she has produced Dancing Suite to Suite, , and Homage to Fiddlers. She filmed Dan Tepfer's Solo Blues for Violin and Piano in Shoal Creek, Alabama, in June 2009.
Pollick was concertmaster of the New York String Orchestra at Carnegie Hall in 1984 and has participated in the June in Buffalo and Wellesley Composers Conferences. She has appeared as soloist with Redwood Symphony in the world premiere of Swedish composer Ole Saxe's Dance Suite for Violin and Orchestra, the Alabama Symphony, and orchestras in Panama, Russia, Alaska, New York and California. She has performed in recital with Russian pianist/composer Ivan Sokolov at the American Academy of Rome, Seattle and New York City, throughout the Czech Republic with cellist Dennis Parker at the American Spring Festival, and in England at the Huddersfield Contemporary Music Festival. Along with choreographer Teri Weksler and percussionist John Scalici, Pollick received a Cultural Alliance of Greater Birmingham 2008 Interdisciplinary Grant to Individual Artists. Pollick received a grant from the Alabama State Council for the Arts and the National Endowment for the Arts for her March 2010 Solo Violin and Alternating Currents concerts in Birmingham and Seattle. With Australian pianist Lisa Moore, Pollick formed the duo Prophet Birds in spring 2009. Pollick performs on a violin made by Jean Baptiste Vuillaume in 1860 and a viola made in 1987 by William Whedbee. For more information: kbentley.com
Karen Bentley Pollick: Virtuosity of the avant garde
By Michael Huebner -- The Birmingham News
March 11, 2010, 9:40PM
Karen Bentley Pollick
KAREN BENTLEY POLLICK:
 ALTERNATING CURRENTS

Thursday, Birmingham Museum of Art

Five stars out of five


Invariably, a program of modern music will contain one or two works that won't stand the test of time -- they will be performed once or twice and never again. For the eight pieces on "Alternating Currents," violinist Karen Bentley Pollick assured that wouldn't happen.

Rarely will a recital such as this engage the ear from beginning to end, yet each piece at Birmingham Museum of Art event had a unique style and temperament, reflecting Pollick's keen sense for gleaning quality in experimental music and giving these scores their rightful due.

A common denominator in all but one piece was electronics, hence the program's title. Two speakers belted out sounds ranging from vaguely recognizable to incomprehensible, flighty to otherworldly. Pollick's role was to complement, contrast and expound on them.

Michael Angell's "Capital Spheres" created a menagerie of repetitive bleeps and ethereal sounds, extending the sonic range of a piano while Pollick accompanied on amplified violin. David Jaffe's half-human, half-machine evocations in "Impossible Animals" could be mournful, frightful or funny. Based on synthesized voices and a recorded winter wren, it tweeted, warbled and created new creatures in the imagination, the scales and arcing vocal glissandos sometimes resembling Chinese opera.

Brian Moon continued the animal theme by electronically manipulating the howls and growls of a stray dog who has taken up residence at Pollick's home. Charles Norman Mason's intricate sonic weavings in "Metaman" brought an grainy video by Sheri Wills into focus. Dorothy Hindman introduced her "Fantasia for Karen Alone," a slowly unfolding dialogue with a recorded violin in pointillistic plucks and snaps and high-pitched harmonics. Zack Browning used highly-charged sound masses in broad swashes to bring "Sole Injection" to an intense conclusion.

The only acoustic piece on the program, Dan Tepfer's sultry "Solo Blues" is a duo for a single performer. A remarkable feat for both composer and performer, it showcased Pollick's unique ability to play the violin with one hand and the piano with the other.

To some, the works on "Alternating Currents" might not be music at all. To those following the thread of the avant garde through the tame apologies of post-modernism, there was no denying these composers' skill and vision. Pollick not only extended that thread, she vitalized and emboldened it. An audience in Seattle will have a say in the matter when she repeats the program there on March 19.
blog.al.com/mhuebner/2010/03/karen_bentley_pollick_virtuosi.html