Profile Images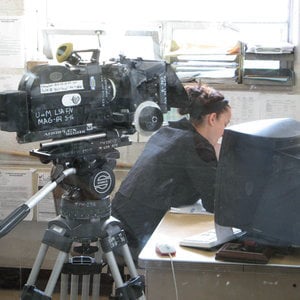 User Bio
Terri Sarris is an award-winning media artist and educator who has taught media production at the University of Michigan for over two decades. In addition to teaching full time, she continues to create media work on digital video, 16mm, and Super 8mm film.
"Our Last Hurrah" and "Drive In" (a collaboration with Joel Rakowski), screened at the 2016 Ann Arbor Film Festival. "Ziegler," a short 16m film collaboration with Frank Pahl, based on a story by Hermann Hesse, screened at the Ann Arbor Film Festival in 2015. "buzzards steal your picnic," Sarris' documentary profile of Frank Pahl, (Detroit composer and creator of self-playing musical automatons) was awarded "Best Michigan Film" at the Detroit International Documentary Festival in 2007 and at the Ann Arbor Film Festival in 2008. The film also screened at the 2010 Sound Symposium in Newfoundland. "The Radiant Sun," a documentary portrait of the Michigan modernist textile designer Ruth Adler Schnee, co-produced with Ronit Eisenbach, has screened at numerous venues, including the Palazzo Mocenigo in Venice, Italy, during the 2011 Venice Bienalle in conjunction with an exhibit of Adler-Schnee's textiles.
With her former student UM Alum Sultan Sharrief, Sarris helped to found the "EFEX Project" (Encouraging the Filmmaking Experience), which began in Spring 2006 as a UM course in "Community Filmmaking." With the EFEX program, she produced the independent feature film "Bilal's Stand" (written and directed by Sharrief), one of 8 films screened in the NEXT category of the 2010 Sundance Film Festival.
Sarris also performs with the toy band, "Little Bang Theory," the brainchild of Frank Pahl. Their performance of the score for Ladislav Starewicz' animated film "The Mascot" premiered at the Ann Arbor Film Festival in April 2010 and has been performed at the DFT in Detroit and The Mattress Factory in Pittsburgh. In 2013, LBT performed live scores to two Ozu films along with Japanese Benshi performer Kataoka Ichiro. n 2014 and 15, LBT performed at the DFT to Hitchcock's The Lodger and to the short theatrical/filim production, "Too Much Johnson," by Orson Welles.
In July 2015, Sarris curated a program of experimental Screendance woks at the Mini Micro Cinema in Cincinnati. The Mini was the brainchild of media artist Jacqueline Wood.
Related RSS Feeds