Babak Karimi
Joined

Location

Europe
Profile Images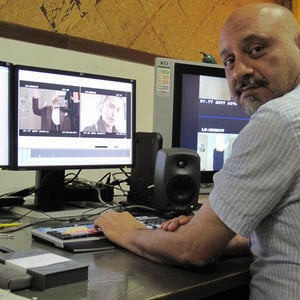 User Bio
Born in Prague on March 22, 1960 to Iranian parents.
Father Nosrat Karimi is an actor, director and playwright too.
Mother Alam Danai is a theatre actress and director.
He made his film acting debut at the age of 10, in the first neo-realist Iranian film
Doroshkechi (The Carriage Driver), directed by and starring his father, and later
appeared in commercials.
In 1971 he moved to Italy.
He studied as a film camera operator at the
Istituto di Stato per la Cinematografia e la Televisione R. Rossellini
He took a masters course in photography at
C.I.A.C. (Centro Italiano Addestramento Cinematografico)
Workshops he attended include:
Directing (Nikita Mikhalkov )
Directing and comedy film (Paul Gray)
Screenwriting (Robert McKee )
Documentary filmmaking (Jeffery Boswall )
Cinematography (John Bailey )
Clown work (Jango Edwards)
While attending the Istituto Rossellini High School in Rome, he worked for three
years for local television station Tele Roma Europa 42 under the direction
of Gualtiero Jacopetti where, besides working as a cameraman, he also began editing.
Several years later, with Gaetano Martino he founded the I.P.S. television production
and post-production company with which, in 10 years of activity as a cameraman and editor, he made hundreds of reportages and documentaries of various genres in Italy, Africa and Asia for the three RAI channels, Fininvest, TMC,German TV, French, Portuguese and Australian television, as well as US broadcaster ABC.
He furthermore made numerous music videos, commercials, dance videos, theatrical videos, and so forth.
In those same years, as a casting cameraman and director of television content
in feature films, he collaborated with Peter Greenaway, Giuseppe Tornatore, Gianni Amelio, the Taviani brothers, Adriano Celentano, Giuliano Montaldo, Francesca Archibugi,
Florestano Vancini, Marco Risi, Marco Bellocchio and Cristina Comencini.
From 1982 he was one of the technical organizers of the third edition of
Una Città In Cinema (encounters with cinematographers) at the Istituto Cinematografico
in Aquila, collaborating with Vittorio Storaro, Luciano Tovoli, Garret Brown, Beppe Lanci,
John Bailey, Vilmos Zsigmond, Giuseppe Rotunno, Marcello Gatti, Nestor Almendros and
Haskell Wexler, among many others.
During those years he met Roberto Perpignani, who encouraged him to
seriously continue in the field of editing and in 1989 offered him a position teaching
electronic editing at the Centro Sperimentale di Cinematografia in Rome.

In 1989 he returned before the camera, playing the lead role in the electoral
commercial of the Verdi Arcobaleno Party directed by Steven Nathanson
and various short films of the program Rosa & Schic directed by Giancarlo Soldi.
In 1990, in collaboration with Laura Sipione, he directed Fendi Casa, a video on
the inauguration of the first Fendi showroom in New York
(finalist at the Industrial Film Festival of New York, 1990)
Also in 1990, at the Pesaro Film Festival, he was dazzled by new Iranian cinema,
discovering filmmakers such as Makhmalbaf, Kiarostami, Jalili, Beyzai and others, who opened his eyes to a new way of conceiving film.

After fruitless attempts at sensitizing Italian distributors to this unstoppable
new cinema, finally in 1991, with the Iranian painter Mahshid Mussavi , he decided to
independently distribute in Italy, the first Iranian film of the new wave:
Bashù, The Little Stranger by Bahram Beyzai
He then founded Bashù Cinematografica, through which he distributed other titles
in Italy and co-produced short films.
With the subsequent boom of Iranian cinema and its diffusion in Italy, he worked
with a number of distributors, including BIM, Mikado, Istituto Luce and Lucky Red,
writing the Italian dialogue for the films and collaborating on their dubbing as a
supervisor and co-director and, in some cases, even as a dubber.
In 1995 he was chosen as the spokesman for the Sperlari advertising campaign
"The Three Magi", for which he was nominated for Best Actor of the Year at the
1995 Galà Della Pubblicità. This long-running advertising campaign ran until 2002,
comprising over 20 commercials directed by Riccardo Milani and Daniele Luchetti.
In 1997, after 20 years of video editing, he finally made his film editing debut
with The Bandits of Zabut by Pasquale Scimeca, followed by Placido Rizzotto, for
which he was nominated for a Gold Ciak for Best Editing.
His work as an editor continued between Italy, France and Iran, and
he worked with, among others, Abbas Kiarostami, Makhmalbaf family, Véra Belmònt, Nader Takmil Homayoun, Babak Payami, Mehrdad Oskouei, Maurizio Zaccaro, Pasquale Scimeca...
Contemporaneously, he accompanied Iranian filmmakers at various Italian
film festivals and events, striking a professional relationship with Abbas Kiarostami,
with whom he worked on:
Directing seminar
(Palermo, 1996)
Assistant Director and voice over for the theatrical production Ta-aziyé
(Rome, 2003)
Directing workshop at the Scuola Holden
(Turin, 2003)
Producer, assistant Director, editing and actor for TICKETS
(Rome 2005)
In 1998, he made (directing, shooting and editing) The Devil on the Roof,
a documentary he shot in the Turkoman Desert of Iran over four years.

In 1999, with Marco Müller he co-produced for Fabrica Cinema , Blackboards
directed by Samira Makhmalbaf. Winner of Grand Jury Prize, Cannes Film Festival.
In 2001 he was a member of the international competition jury at the
Arcipelago Film Festival of Rome (international section)
Locarno Film Festival (Leopards of Tomorrow section)
In 2002 he translated from Farsi into Italian for the Einaudi publishing
company, the first of three novels by Atiq Rahimi :
Earth and Ashes
followed by
The Thousand Rooms of Dream and Fear (2003)
The Image of Return (2004)

In 2003 he was offered a position teaching editing at the International
Academy of Image Arts and Sciences in L'aquila, founded by Vittorio Storaro and
the Lanterna Magica cooperative.
In 2004, in collaboration with Carlo Cresto-Dina, Domenico Procacci and
Rebecca O'Brien, he produced for Fandango the film in three episodes Tickets ,
directed by Ermanno Olmi, Abbas Kiarostami and Ken Loach, working above all on
Kiarostami's episode, in which, besides being a co-producer, he also worked as
assistant director, second cameraman, actor and editor.

In November 2004, with Ivan Franek and Mandala Tayde he took part in
a reading of stories by John Cheever for Fandango Libri.
Since 2004 to 2010 he has been a consultant for the Venice Film Festival for the iranian cinema.
In 2007, he returned to acting with a role in the film Last Minute Morocco by Francesco Falaschi,
starring Maria Grazia Cucinotta, Valerio Mastrandrea and Nicolas Vaporidis.
Caos Calmo, directed by Antonello Grimaldi.
starring Nanni Moretti, Valeria Golino,
Due Mamme Di Troppo by Antonello Grimaldi