Profile Images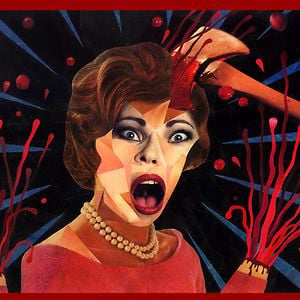 User Bio
The impact of Larry Wessel's style can be seen everywhere from the advertising campaigns of Madison Avenue, to the proliferation of 'Reality Television.'
Larry is known for his original, colorful and highly graphic collages. His artwork has been exhibited at museums and galleries including the Laguna Art Museum, La Luz de Jesus, Mark Moore Gallery, and Outré Gallery. Collectors of his collages include Adam Parfrey, Nick Bougas, Anton Szandor LaVey, Coop, Rev. Steven Johnson Leyba, Martin McIntosh and Johanna Went.
Wessel's collages have also appeared in the pages of magazines such as HUSTLER, Answer Me!, CHIC and MALEFACT, and Martin McIntosh's books Taboo: The Art Of Tiki and Beatsville, as well as the cover of Adam Parfrey's Cult Rapture & Gene Gregorits's Midnight Mavericks.
In addition to collage, Larry Wessel is well known for his extensive documentary film work. He produces, directs, writes, shoots and edits profoundly twisted and provocative video work. Bloody bullfights, cool artists, obsessed collectors, way-out writers, the transgender underground and the dark side of Los Angeles, are just a few of the subjects of this wild man's throught-provoking documentaries. Academic discussions of Wessel's films can be found in the books Killing For Culture, by David Kerekes and David Slater, and Psychotropedia by Russ Kick. Interviews with Larry Wessel have appeared in numerous publications, such as Headpress and PANIK, as well as the book Sex & Guts 4, by Gene Gregorits and Lydia Lunch and the book MIDNIGHT MAVERICKS by Gene Gregorits. Currently Larry is busy creating animated gifs.
Related RSS Feeds
Recent Activity
100% Pure Cinema!! Bravissimo!! A visual Tour de force!!