Premanand Cinematographer
Joined

Location

New Delhi
Profile Images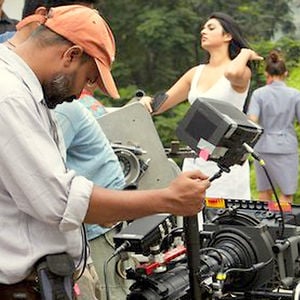 User Bio
CINEMATOGRAPHER PREMANAND.B
Name : PREMANAND.B.
Phone Number : +91 9810633105

Languages Known : English, Hindi
Experience : 13 Years.(independent
working experience).
PROFESSIONAL EXPERIENCE
MOVIES OF NATIONAL AND INTERNATIONAL LEVEL
• 2011 stared with an Italian film for Anna Karini who is a Leading artist of the
Italian art Circle.
• A short film for Arprita Kumar a USA based NRI, who made an film based on
surrogacy in India..
• Present films as Director of Photography is "Jugaad" in Hindi and "Private No"
in Kannada Directed by Mr. Anand Kumar and
produced by Mr. Sandip Kapoor.
• Cinematographer for Film "Ulgulan" Ek Kranti Directed by Mr. Ashok Sharan.
• Partially Shot portions of movie "Delhi Heights"
• Historical Movies Like "Jeetu Bhagarwal" directed by Mr Mehfooz Khan.
• A Thriller directed by Mr Hriday Shankar Mishra, named "Khooni Jaljala".
SERIALS
Cameraman for over 20 serials based on Kashmir / Punjab .
DOCUMENTARIES AND CORPORATE FILMS:-
• A documentary on "Sakshratha", adult education in India and is progress made to be viewed by the president of India shot in 2011 directed Shailender Uniyal.
• An add film on Ramsha Carpets, an SMS Management College based in Lucknow and Varanasi and several other adds for director Lakshmi Narayan..
• A very popular Baniyan Add for director Padam Gurung which starred the Bojpuri hero Manoj Tewari.
• Corporate film for Protien X and Himalya Brand (Mahan Group)
• Corporate films for Enthuse Answers and SAP / Sapient which are market Giants in IT..
• Corporate film for Pinapple films.
• Windsor Builders Group.
• Jaipuria appartments.
• Jindaal Group.
• Pashupati
• Paras & Company (Manufactured swords for Movie Gladiator,Lords of the Rings)
• Shooting for International film festival 2006 at New delhi.
• Film For UNESCO Film For Children for Satish Pandey.
CLIENTS OF NATIONAL & INTERNATIONAL LEVEL.
• Sapient (service provider to Giants like Coke).
• SAP (service provider to almost 1500 companies including Birla/Tata and every brand name in India).
• Enthuse Answers.
• Honda Cars including City VX.
• Yamaha Motors.
• Sonilaka SUV Division.
• Jubilent Chemicals. Etc
WORKED ON FORMATS.
• High Defenition.
• RED and 5D
• Digi Beta.
• Digital Video.
• 35 mm / 16 mm.
.WORKED AS ASSISTANT TO MADHU AMBAT FROM 1990 TO 1995
• Assistant Cameraman for Movie "PRAYING WITH ANGER" By Director M.Night
Shyamalan
• Assistant Cameraman for Movie "BINODINI" which is a London Production.
• Assistant Cameraman for Movie "SWAROOPAM" State award winner.
• Assistant Cameraman for Movie "BADRAM KUDCO" National Award winner
• Assistant Cameraman for Movie "ANKURAM" National Award Winner.
(PREMANAND. B.)
Related RSS Feeds