Ivan Kanter Goldman
Joined
Profile Images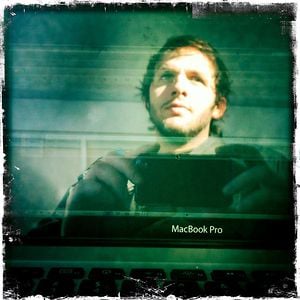 User Bio
Airplane Pilot? Doctor? Engineer? Nope, I've decided to be a film editor! Well… my
parents don't understand exactly what I do and to tell the truth, neither do my
childhood friends. What they all agree on is that the possibility of working with
cinema and TV is amazing.
It all started in 1998 when I began studying social communication at the Federal
University of Rio De Janeiro (UFRJ). I needed extra college credits for my major
and money to pay the rent when I heard that internships were available at the
TUPI FM Radio Station. So I started hosting a weekly 1-hour program of classic
and indie rock at the university radio station.
In June 2000, I decided to apply for another internship program at REDE GLOBO,
the biggest TV channel in Brazil. I was selected and after 12 months they hired
me as a video switcher operator in the journalism division. I had the chance to
manage the Switcher/Switchboard for events such as Rio de Janeiro's Carnival,
Rock in Rio II, Soccer Games and Daily News.
While still at Rede Globo, I became interested in editing as well as special
effects, so I decided to study post-production on my own. An Avid-DS and
its manual were my starting point. I spent hours trying to make masks, to
understand the color corrector, among other ways to modify images.
Besides editing, I wanted to recreate the frame.
This new passion gave me the opportunity to work both in drama, with directors
such as Luis Fernando de Carvalho on the TV serie "Hoje é Dia de Maria," as
well as in advertising, with directors such as Paulo de Barros, João Caetano Feyer,
Carolina Jabour, Eduardo Vaisman, Fernando Andrade, Octavio Scopelliti,
Andrucha Waddington, Breno Silveira, Arthur Fontes, Carlão Busato, Paulo Diehl, Mateus de Paula, Daniel Benmayor...among others.
Worked with Fabio Soares, one of the most respected advertising
directors in Brazil. We have made many commercials together for national and
international campaigns of clients such as Toyota, Pepsi, VW, Ford, Claro, Lacta,
and GM. His works depend heavily on special effects, so my participation in his
projects begin at the pre-production stage, helping with ideas and references for
the commercials. The editing starts during the shooting, to make sure we have all
the plates for the later compositing. My work ends only when the post-production
is entirely finished.
Piloto de avião? Médico? Engenheiro?... Não, Editor!... Bom... meus pais não entendem muito bem o que eu faço nem meus amigos de infância mas uma coisa é unanimidade, todos acham incrível a possibilidade de trabalhar com cinema e TV.
Isso começou em 98, quando fui aprovado na Faculdade de Comunicação Social da Universidade Federal do Rio de Janeiro (UFRJ)...precisava de créditos extras para o curso e dinheiro pra pagar o aluguel. Apareceu uma oportunidade de estágio na Rádio TUPI FM e aproveitei para assumir uma hora semanal na rádio da Universidade com um programa de Classic e Indie Rock.
Quando o PROGRAMA ESTAGIAR da Rede Globo iniciou a seleção em Junho de 2000 resolvi me inscrever. Acabei aprovado e, depois de 12 meses, fui contratado como Diretor de Imagem no jornalismo da emissora. Tive a oportunidade de comandar o Switcher em eventos como o Carnaval, Rock'n Rio II, partidas de futebol e telejornais diários da GLOBO NEWS e rede.
Ainda na GLOBO, operando uma Grass Valley, acabei me interessando pelas possibilidades de efeitos, chroma-key, etc..., e resolvi estudar pós-produção. Um Avid-DS "encostado" e o manual foram o ponto de partida. Sem professor, gastava horas tentando entender as máscaras, o corretor de cor, entre outras possibilidades de alterar a imagem.
Esse novo conhecimento me despertou pra Edição... não bastava modificar a imagem, eu queria manipular a "idéia". Pegar uma cena, adicionar outra e mudar o sentido das duas, colocar um efeito sonoro ou música e alterar tudo novamente. Essa nova paixão acabou me conduzindo a trabalhos de dramaturgia com diretores como Luis Fernando de Carvalho, no projeto Hoje é dia de Maria, e de publicidade com Paulo de Barros, João Caetano, Carolina Jabour, Eduardo Vaisman, Fernando Andrade, Octavio Scopelliti, Andrucha Waddington, Breno Silveira, Arthur Fontes, Mateus de Paula, Daniel Benmayor...entre outros.
Fiz parte da equipe de Fábio Soares, um dos mais respeitados diretores brasileiros e responsável por campanhas publicitárias nacionais e internacionais de empresas como Toyota, Pepsi, VW, Ford, Claro, Lacta, GM, etc..., colaborando na pré-produção com idéias e referencias, acompanhando as filmagens e montando os filmes.
Related RSS Feeds