I Pilot Dæmon
Joined

Location

France
Profile Images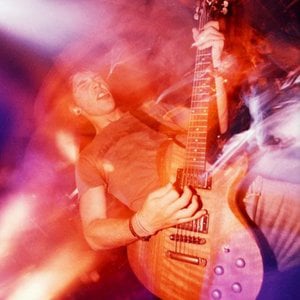 User Bio
The Toulousains of I Pilot Dæmon are, most of all, well-known for cleaning up the concert halls. Romain, the lead singer, sweats, spits, drags himself on the floor, and leaves behind him a clean room. His past, as a dyslexic, gives him not only that phrasing-spitting feature, but also allows the audience to shower. Which is quiet cool. He therefore, rants the public like an intoxicated kid rowing on rock'n'roll, and according to their saying… it reminds you of your condition as a vertebrate doing riffs on « minerve ». Which means, hitting the guitar like shovels that dig a whole through your neck. You dance, you scream, and pretty soon you will suffer. But it will pass. They pretend they want to do music that would be possible to play under any possible state. Listening to them reminds us of Botch, of Refused, of Will Haven, of hardcore, of rock, of stoner… but as a matter of fact we would be silly to think about all of the above. Besides, it would suck. So let's stop here.
Their first LP In 2007, « Happily Depressed » is released on Lacrymal Records, which is followed, the same year, by a split in company of the Germans of Anything But Yours. From then on, French and European tours will follow, where they visit the most disgusting places in Belgium, in Germany, the Czech Republic, in Spain and in Switzerland. They will learn the facts of life, sleeping in abandoned houses, in ventilated rooms during the winter time, meeting the wild crowd of hippies and Strip-Tease characters. And where everyone will catch a disease. To make it short and sweet, everything is according to the rules. However, a year later, they take a pause.
Taking advantage of this hiatus, Romain creates the groups Montreal On Fire and Jin Baker. Then, one day, while testing the sound on his webcam, he discovers a new world : An ambiant mess which will become his project arty Saåad.
Baptiste, the drummer, becomes part of the big family of vodka drinkers, aka « the electrik scene, with his project Neofluxx. Composing titanic music with his Yule log fingers, making him a star for drug addicts thrashing the dancefloors. If only he would decide to take care of his publicity. On the other side, Sylvain, the guitarist/producer, chooses the easiest path for a guy that is bored : he becomes a dad. While, Sébastien, the bassist, who became a big Toulousain star by being the local jackass during his childhood decides not to grow up by creating an electro-pop group for romantic teenagers. Which by the way… does not have a name.
But, the next thing you know, they announced the release of their first album in October 2010, "Come What May". Within the album, they promise huge gimmicks, southern filth, bottleneck gigs and darkness that will make you go pale. It's with a great sense of logic that they will tour this fall in Scandinavia with Time to Burn. As cleanse other territories. And catch new diseases. It's a passion amongst others.
Il harangue donc le public comme un enfant ivre chaloupant sur du rock'n'roll, et te rappelle ta condition de vertébré sur des riffs "minerve", selon leur mot. C'est à dire des coups de guitare comme des pelles qui te creusent la nuque. Tu danses, tu cries, et t'auras bientôt très mal. Mais ça passera. Ils disent vouloir faire une musique qu'il leur serait possible de jouer dans des états pas possibles. En les écoutant on pense à Botch, à Refused, à Will Haven, à du hardcore, du rock, du stoner... mais en fait on se dit qu'on a tort d'y penser. D'ailleurs on se trouve chiant. Alors on arrête là.
En 2007, leur premier EP "Happily Depressed" sort sur Lacrymal Records, qui est suivi la même année par un split en compagnie des allemands d'Anything But Yours. Dès lors, de longues tournées françaises et européennes se succèderont, leur faisant visiter les coins les plus dégueulasses de Belgique, d'Allemagne, de République Tchèque, d'Espagne et de Suisse. Ils y apprendront la vie, en dormant dans des maisons abandonnées, dans des pièces aérées en plein hiver, rencontrant une faune mélangée d'hipsters et de personnages de Strip-Tease. Et où chacun attrapera sa petite maladie.
Bref, tout se passait dans les règles. Pourtant, un an plus tard, ils font une pause.
Profitant de ce hiatus, Romain monte alors les groupes Montreal On Fire et Jin Baker. Puis, un jour, testant le son de sa webcam, il découvre un nouveau monde : un bordel ambiant qui deviendra son projet arty Saåad.
Baptiste, le batteur, entre dans la grande famille des buveurs de vodka, aka "la scène electro", avec son projet Neofluxx. Composant des morceaux titanesques, avec ses doigts en forme de bûches de Noël, qui feront de lui une star des dancefloors de camés. Si un jour il s'occupe de sa promo.
De son côté, Sylvain, le guitariste/producteur, choisit la voie facile du mec qui s'ennuie : il est devenu papa.
Et pendant ce temps, Sébastien, le bassiste, grande star toulousaine pour avoir été le jackass local durant sa jeunesse, décide de ne pas vieillir en montant un groupe d'electro-pop pour adolescents romantiques. Qui n'a toujours pas de nom.
Mais voilà qu'aujourd'hui, ils annoncent la sortie en octobre 2010 de leur premier album, "Come What May". Dedans, ils promettent des gimmicks tubesques, de la crasse sudiste, des morceaux au bottleneck, et de la noirceur qui fait blêmir. C'est donc en toute logique qu'ils partent en tournée scandinave cet automne, avec Time To Burn. Afin de nettoyer d'autres territoires. Et d'attraper de nouvelles maladies. C'est une passion comme une autre.
Jerôme Loisy
Related RSS Feeds