Profile Images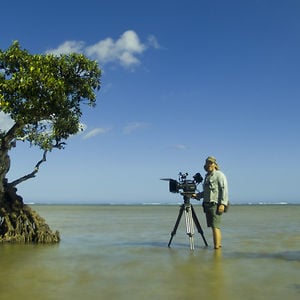 User Bio
From growing up in the Rocky mountains. Russ has been pursuing a path of amazing locations and stunning images for over 30 years. With camera always at hand, He is consistently exploring new methods of filming and lighting; experimenting with new ideas, cutting edge equipment and innovative visual tools. Russ is always pushing the envelope of image making. Winning 2 Emmy's and being nominated 6 times for his cinematography is testament to this pursuit.

Whether the subject is interviewing Neilson Mandela, or an epic Survivor location, He has the ability to capture the moment and images in a raw and organic style. Exotic locations are not the only inspiration for his best work. It is always Russ's instinct to dwell in the comfort zone of those he photograph. Spending an afternoon in the kitchen of UFC fighter Chuck Lidell, or photographing Ted Nugent fishing and hunting on his ranch, the results in eloquent photographs are the result of talent at ease.
Drawing on his experience through film and television production he has continued to journey as cinematographer, director, artist and storyteller, driven by his passion for world travel, art, and research.


Never mind where I've been, ask me where I want to go…..
Related RSS Feeds