Ruben Plataneo
Plus
Joined

Location

Plataneo; Rosario. Argentina,
Profile Images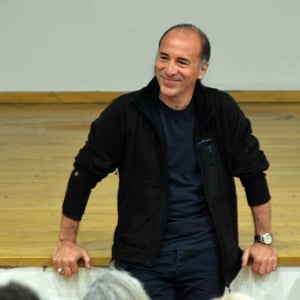 User Bio
RUBEN PLATANEO. Director, Producer.
email: rubenplataneo@hotmail.com
skype: rubenplataneo
calandaproducciones.net
Rubén Plataneo resides in Rosario, Argentina. He studied film and photography in Santa Fe, where he was born. He conducts workshops and writes about film analysis. He is the coordinator of the BAFICI in Rosario. He received grants and awards for many of his films and screenplays. He made short films, Documentaries and TV docs: Unlawful Deaths, 2005; Dante in the bigger house, 2007; PAPI Tank, 2009; Fire Island, 2011; The Mighty River, 2012, VERA a shortfilm of 2014, among others.Currently he is in stage of production of a new documentary "The Triple Crime" and in development of his first fiction feature.

Director, productor, guionista, cameraman.
Estudió Cine y fotografia, escribe análisis cinematográfico, dicta Talleres de Lenguaje del cine, fundó y coordina Calanda Producciones. Paralelamente a su trabajo como Director, programa ciclos y Muestras. Reside en Rosario. Argentina. ha obtenido numerosos premios, becas y concursos con sus realizaciones.
(Algunos Premios-concursos-Becas: Mejor Película "El Gran Río" Flandes FFest y Bariloche FAB; Primer Premio Concurso Audiovisual Provincia Santa Fe, Primer Premio Concurso Raymundo Gleyzer, Beca de la Fundación Typa, Premio al Mejor guión iberoamericano del Festival de Almunia, Zaragoza, Primer Premio concurso Audiovisual Rosario en 2003 y 2007, Primer Premio Beca Audiovisual del Ministerio de Cultura de Santa Fe 2007;, Mejor Película DDHH y Mejor Fotografía (Muertes Indebidas), Premio IFHP Oslo por Waterfront; Seleccionado e invitado a participar en diversos concursos: Clínica de Producción de Nuevos Talentos del Festival Internacional de Mar del Plata, Forum del Doc Bs.As, Festival Dok.Fest de Munich, Alemania, Workshop: Memories of violence, Concurso de Proyectos del Festival de Biarritz, Francia, Encuentros de Coproducción Mannheim Meetings, Alemania, Encuentros de CoProducción del Festival de Guadalajara, México, Taller de Proyectos Cinematográficos Fund TyPA, Argentina, Laboratorio de Proyectos (BAL) del Festival BAFICI, Argentina; Premios Concursos Héroes Bicentenario y Soporte Digital INCAA por "Isla de Fuegos", Development Prize Hubert Bals Fund,etc.).
Filmografía como Director, productor y guionista: Historieta (7'); Daniela (doc 50'); Viernes (15'); La extinción de la especie (exp. 10'); La sociedad de los artistas (doc 20'); Quemado, Cabaret, Bandoneón (videoclips); Waterfront (4'); Muertes Indebidas (doc 97'); Shapes (90 sec); Dante en la casa grande (doc 50'), Tanke PAPI (doc. 70'); Isla de Fuegos (48'); El gran río (92'); Vera (24') .
some trailers: vimeo.com/39444375 vimeo.com/18505990
vimeo.com/11495044 vimeo.com/16751334 vimeo.com/11878480
/ youtube.com/watch?v=ElNo7FvcrLc
calandaproducciones.net
Related RSS Feeds