Profile Images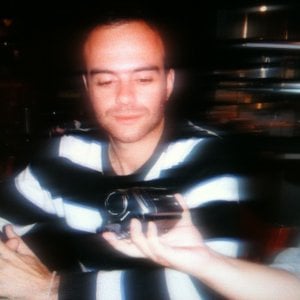 User Bio
Estudia cine y Filosofía y el master Documental de Creación de la Universidad Pompeu Fabra.
Ha realizado los largometrajes documental "Edificio España" (2012), nominado al GOYA a la mejor película Documental y seleccionado, entre otros, en el Festival de cine de San Sebastián, BAFICI o DocLisboa… Y "Holidays" (2010) que resulta premiado, con el premio especial del jurado "Nuevos directores" del festival de cine de Las Palmas.
También ha realizado el mediometraje "La Piedra" (The stone) (2013) que presenta en Visions du reel (Suiza) y gana el segundo premio "Ciudad de Alcalá" de Alcine o el Premio especial en Alcances.
Entre sus cortometrajes destaca "El extraño" (The stranger) (2009) que gana, entre muchos reconocimientos, el gran premio a la mejor película Notodofilmfest o "Ave Feliz" (2015) y "Feriantes" (2010) que se realizan durante el Festivalito de La Palma y que ganan el premio al mejor cortometraje de cada año y que han sido premiados en festivals como En.Piezas , Mecal o Zinezi.
Sus trabajos han sido destacados como mejores obras del año en revistas como Caimán, emitidos en TVE y Canal Plus, y exhibidos en festivales de más de 20 países o en centros como el Barbican Center (Londres) o UnionDocs (Nueva York)
También es el director artístico de la Muestra de cine Europeo de Lanzarote. muestradecinedelanzarote.com/
He studied film and Philosophy and Master Creative Documentary in Pompeu Fabra University.
He has made the full length documentary "Edificio España" (2012) nominated to GOYA Awards to best documentary Film and it has participated, among others, at the San Sebastian Film Festival, BAFICI, or DocLisboa. And "Holidays"(2010) was awarded with the Special Jury Prize "New Directors" Las Palmas Film Festival.
He also directed the medium length film "The stone" (2013), world premiere at the official selection Visions du Réel (Switzerland). This film won the second prize "Ciudad de Alcalá" from ALCINE Film Festival and special prize of Alcances.
Among his shorts films The stranger (2009) won the Grand Prize for the best film in Notodofilmfest and "Ave feliz" (2015) and "Fairground workers" (2010) filmed during Festivalito La Palma and winners of best short film award each year.
His work has been featured in magazines such as Caiman Cahiers du cinema (best filmsof the year) and screened on TVE and Canal Plus Spain, festivals around 20 countries or museums as Barbican Center (London) or UnionDocs (New York)
He is also the artistic director of Muestra de Cine Europeo de Lanzarote.