ATSA_Montréal
Joined

Location

Montreal
Profile Images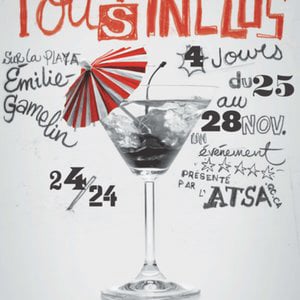 User Bio
L'ATSA est un organisme à but non lucratif fondé en 1998 par les artistes Pierre Allard et Annie Roy. Ils créent dans l'espace public des œuvres et événements transdisciplinaires sous forme d'interventions, d'installations, de performances ou de mises en scène réalistes motivées par le désir d'interpeller la population envers des causes sociales, environnementales et patrimoniales cruciales et préoccupantes.
L'ATSA mise sur sa qualité artistique, un imaginaire ludique et percutant, une visibilité médiatique et un discours basé sur une documentation bien fondée, afin de rassembler le public et les médias et d'encourager le plus grand nombre à jouer son rôle citoyen et à participer activement au mieux-être de la société.
Ses créations artistiques, très rassembleuses et offertes gratuitement dans la rue, sont à la fois des expériences humaines et sensorielles inusitées, instructives et intergénérationnelles qui questionnent le paysage urbain afin de redonner à la place publique sa dimension d'espace ouvert à la rencontre, à la réflexion.
-------
ATSA is a not-for-profit organization founded in 1998 by artists Pierre Allard and Annie Roy. The pair create transdisciplinary works and events for the public realm that take the form of interventions, installations, performance art and realistic stagings. Their actions are born of a desire to raise public awareness of various social, environmental and heritage issues that are crucial and that need to be addressed. To sway both the public and the media—in short, to motivate as many citizens as possible to take an active role in improving society—ATSA marshals artistic quality, a playful, imaginative outlook, impactful media exposure, and key messages backed by sound, thorough research.
Its artistic creations—always provided free of charge and designed to draw people closer together—are one-of-a-kind experiences from both a sensorial and a humanistic standpoint. They are educational and intergenerational, and question the urban landscape, promoting exchange and reflection in the public realm.
-------
Related RSS Feeds
Recent Activity
ATSA_Montréal does not have any activity yet.