Days of Y'Orr
Joined

Location

Boston Garden
Profile Images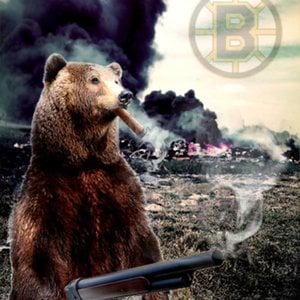 User Bio
Days of Y'Orr is a completely, 100% biased blog about the NHL and the Boston Bruins. We think Shawn Thornton is the third greatest NHL player of all time (behind Lemieux and Orr), sympathize with Joe Thornton and do Renee Rancourt fistpumps during even the most pedestrian of accomplishments. We are still bitter towards Ulf Samuellson and have shrines to Cam Neely. We love Ray Bourque, but refuse to support those half Bruins, half Avalanche jerseys people wear.
We have no love for Gary Bettman and think people need to leave Sidney Crosby alone. We are still not over what the Jacobs family has done to this once great franchise. We celebrate the 9th of every month as "The Chief" day, think Ed Johnston is the most under-rated back up goalie of all time and wish Terry O'Reilly had won a scoring title just for funsies. We are crude, opinionated, often wrong and hate when people yell shoot at games. We think Section 306, Row 15 is the best place to be at the TD Garden.
Playoff hockey is the reason we get up in the morning and we swear we haven't booed Dennis Wideman once this season (okay, that might be a bit of a stretch).
We have absolutely no affiliation with the Boston Bruins or the NHL and are not supported by either. We are simply a fan run blog supporting our favorite team in a (sometimes) humorous manner. However if you work for the Bruins, we'd love some game used sticks and a Claude Julien autograph.