KEN • SCHNEIDERMAN
Joined

Location

Brooklyn, NY U.S.A.
Profile Images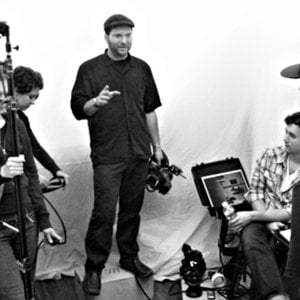 User Bio
KEN SCHNEIDERMAN'S DYNAMIC LENS WORK offers psychologically revealing and sometimes humorous glimpses into the lives of people from all walks of life.
ORIGINALLY FROM ATLANTA, GEORGIA, Ken studied anthropology at Georgia State University. His first public exhibition of work was Alternative Processes, a group show at the Redlight Cafe's gallery in Atlanta, Georgia, 1996. He later studied under fine art photographer Phil Bekker at the Art Institute of Atlanta. He spent the spring of 2000 trekking 580 miles across northern Spain documenting the people living along El Camino de Santiago, the 'Way of Saint James'.
The Camino project gained him entry as a darkroom printer in the Manhattan studio of one of his photographic heroes, Arnold Newman. Ken then worked for several years as a full-time assistant for portrait photographer Andrew Eccles and freelanced extensively for Mary Ellen Mark, Albert Watson, Rodney Smith, Frank Ockenfels, Eric Ogden and Brigitte Lacombe.
KEN ESTABLISHED HIS New York studio in 2008 and began shooting commissioned editorial and advertising still photography assignments. That year the Entertainment Industry Foundation invited him to photograph celebrities and athletes for Stand Up To Cancer's first global ad campaign. Working alongside film director David Fincher and crew on location, Ken custom designed a roving studio allowing him to capture intimate portraits of personalities on both coasts. The campaign was seen in over 170 countries raising $100 million dollars for cancer research.
KEN'S EDITORIAL PORTRAIT of the late great American fitness icon Jack Lalanne won recognition in American Photography 25 in the winter of 2009.
AN ARDENT TRAVELER, Ken has created personal bodies of work in Mexico, Vietnam and Europe, as well as in his own stomping grounds, New York City. He was raised to treat 'nobodies like somebodies and somebodies like nobodies'. He considers his dog Louie a 'somebody', so treats him accordingly. His top three creative heroes are photographer Irving Penn, cinematographer Roger Deakins and Southern folk painter Hubert Shuptrine.
TODAY WHEN NOT PHOTOGRAPHING bipedal primates and their earthly environs, Ken practices fingerpicking his steel string acoustic spruce-top. Often at large in the greater world, he currently makes his home in Brooklyn, NY with his wife Mai, and their soon to be newborn baby girl.