Der Singende Tresen
Joined

Location

Berlin
Profile Images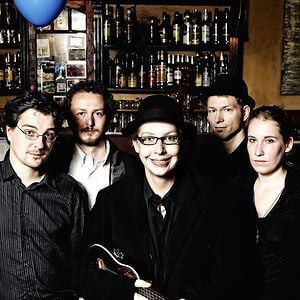 User Bio
DER SINGENDE TRESEN - A BARTENDERS NIGHTMARE
(Nicht schön, aber selten - Not nice, but rare)
..
Two people met each other behind a bar, working as -tenders. Being bored by the everyday-ihatemyself-itsthesameitsthesame- drinking peoples storys, they began to make music. She had a voice and a head full of words. He had a guitar. That was the beginning - once again. In this small bar in the middle of Berlin (eastern part) they also met a young man with nothing else than a clarinet and they became friends. Since that time they cruise around, using their feet or sleeping in trains, travelling trough that broken german country, creating new songs about this "how to laugh without crying "-stuff (K. Tucholsky).
One day a third man came along the road, small and nearly invisible behind his "Big Lady" - a beautiful double-bass, his only love, forever. "Love!", another man prayed, "Love is all we need." But it was just a joke. Just the way a (former romantic) poet fights his ugliest nightmares - as a satirist. The four comrades invited him: "Man, just come with us, you are sad enough for this journey."
The years went down along the river and another barmaid came along with ice-cream in both hands, a female rythm-junkie. "My name is Lili", she said and "There is konfetti in my head, you know . . ."
This is "Der Singende Tresen": Dark, but funny - not nice, but rare.
..
So ließe sich die Geschichte erzählen, aber auch vollkommen anders. Was als Schnapsidee in einer Kneipe begann, hat uns in wechselnden Besetzungen quer durchs Land und über seine nur scheinbar offenen Grenzen hinaus geführt. Manchmal gab es Streit, notwendigen und solchen ohne Not oder aber wegen ihr, der Not. Aber das konnte unser Piratenschiff nicht zum Kentern bringen. Die Reise geht weiter. Eine sturmumtoste Fahrt ins offene Meer der Möglichkeiten? Nichts bleibt so, wie es ist?
..
"It is the same old world, but nothing looks the same..." (Waits/Brennan)
..
SPERRSTUNDENMUSIK – das ist es, was wir machen. Für Euch, für uns und auf das Leben!
Related RSS Feeds