Profile Images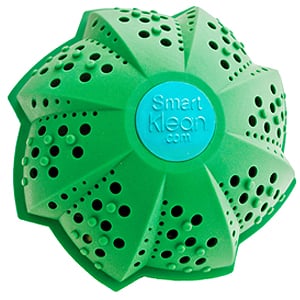 User Bio
Say goodbye to laundry detergents and hello to the countless benefits of cleaning your laundry with SmartKlean!
Our products are mineral-based, environmentally responsible and budget friendly. The SmartKlean Laundry Ball gets laundry clean without any harsh chemicals. And it lasts for 365 loads! That is 7xs the average bottle of detergent. It leaves no trace in our aquatic ecosystems like detergent does and reduces packaging waste and energy consumption from recycling. Once you're done with the ball the ceramics inside are even biodegradable and you can recycle the ball. And the best part is that it works! SmartKlean has received an abundance of glowing reviews and has been featured on NBC's Today Show, ABC News, Parenting Magazine, and many other national outlets.
The Stain Remover Stick is easy to use, long lasting and works like a charm! It is also mineral-based and sustainable. We can all decrease our impact from washing our clothes. With SmartKlean, caring for our planet is rewarded with big money savings, freshly clean, naturally soft fabrics, and happy, healthy skin free of toxins.
Related RSS Feeds
Recent Activity
seriously! What does this beautiful artwork have anything to do with McDonalds?