Cam Cavasso
Plus
Joined

Location

Honolulu, HI
Profile Images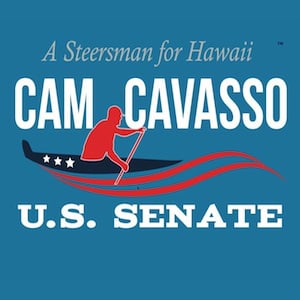 User Bio
I am a businessman with a small farm in Waimanalo, a 22 year veteran financial advisor with Mass Mutual Financial Group, and was honored to represent the voters of District 51 in windward Oahu for three terms in the Hawaii State legislature.
I lived in Japan as a foreign exchange student and served as a Captain in the U.S. Army in Europe. My great grandfather Frank Davey was a well known photographer who served the royalty in the Hawaiian Kingdom in the late 1800's.
I believe that Hawaii's aloha spirit is a uniquely powerful gift and its transforming message must be shared competently with Congress and nation. As a constitutional and fiscal conservative, I believe that individuals, not government, are best at solving problems and creating opportunity. The most serious threats to the security of our nation today are not external, but internal factors such as the burgeoning national debt, uncontrolled spending, and the government's violations of our constitutional and personal freedoms. Our government must learn to operate its financial house like its citizens must run their family budgets; balanced and responsibly. Further, I believe that if our government is to be a government "by the people, for the people," the public interest is best served when government transparency is made an absolute priority in matters of government financial activity.
Without an immediate and dramatic change of course, I believe we stand in the way of a successful future for our children.
The government is responsible to its citizens—not the other way around. Government leadership must therefore champion the cause of the most vulnerable among us including the poor. National defense issues require peacemaking through strength and humility coupled with realism. Educational excellence springs from locally motivated leadership–not from Washington.
My business experience has provided me with the necessary tools for lawmaking with common sense, and my experience abroad has given me the cross-cultural sensitivities necessary to lead effectively in today's world.
Cam Cavasso currently resides with his wife Tula, two sons, three daughters, and nine grandchildren in windward Oahu.
Related RSS Feeds