Lumisokea
Joined

Location

Berlin/Amsterdam
Profile Images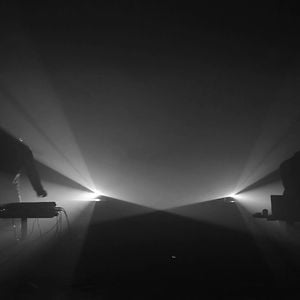 User Bio
Lumisokea is a Belgian-Italian duo, formed by Koenraad Ecker and Andrea Taeggi, respectively based
in Berlin and Amsterdam. Their music is at once highly physical and rich in texture, using both
acoustic (cello, prepared piano) as well as (analog) electronic instruments to create a dark and
introspective listening experience.
Their influences range from dub to noise, bassmusic, techno, musique concrète and contemporary
classical music, while remaining focused on the key elements in their music : to induce trance-like
states, to move bodies and to emphasize the tactile qualities of sound.
In november 2012 they released their 2nd album for Eat Concrete, entitled "Selva".
'Selva' was composed and recorded between october 2011 and march 2012, using a vast array of
analogue synthesizers (such as ARP 2600, Korg ms-20, EMS vcs3, a.o.) and recordings of cello,
prepared, just intonation and equal temperament piano.
The album is available on vinyl & digital formats here : eatconcrete.net/shop/home/lumisokea-selva/
To strengthen the impact and concentration of their live-shows, Lumisokea have created a visual side
to their musical performances together with Yannick Jacquet (Legoman), a well-respected video-artist,
known a.o. from his work as a founding member of the antiVJ visual label.
The visuals and scenography that Yannick Jacquet designed for Lumisokea are based around the
simple but highly effective idea of projecting slowly developing, abstract geometrical beams of light
into a pitch black room filled with smoke. In contrast to most visuals used at musical performances,
these moving shapes do not seek to add a certain meaning or concrete imagery to Lumisokea' s
music. They rather function as a hypnotic focal point and a way to relieve the audience from the
boundaries of the performance space, made possible through the use of the tactile and illusory
qualities of light projected onto smoke.
Selected press :
"(...)The title track, "Selva" is a standout piece, bridging together a frantic, disorganised drum pattern with ferocious slashes of white noise and feedback. Lumisokea ties things off in style with the aptly named "Chimera", a frightening display of aqueous bleeps and echoing bass drums. TIP! " // JUNO//
"(...) Giving its respectful nods to the lineage of musique concréte through its use of grainy field recordings and John Cage derived prepared piano, Selva manages to remain current enough through its incorporation of more contemporary dub and glitch influenced rhythms and sample manipulation. The album has some serious replay value, and there's bound to be something special about hearing it on vinyl(...)" // Stray Landings//
"(...) Selva is a much fuller-sounding album than its predecessor, and more fascinating for it; 'Veltro' and the title track stand out as particularly absorbing examples of the way the duo create seemingly endless depth through gradual layering and the appropriation of the space in which they work to provide a sense of organic derivation.(...)" //Steve Dewhurst//
"(...)There's a uniquely serene choral element present in their music – which can sometimes prefer to channel a harsh kind of brutality that becomes engulfing after a little while – and on tracks like the eponymous 'Selva' or 'Chimera' you really get a feel for the kind of balance they seem to be able to excel in producing...Arresting sound design at its most engaging.(...) " // Sonic Router//
INFO & BOOKINGS : info@lumisokea.com
Related RSS Feeds