vincent william gagliostro
Plus
Joined
Profile Images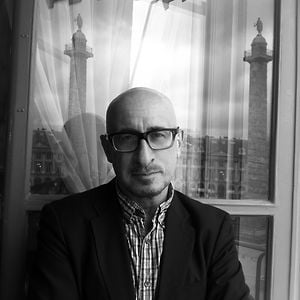 User Bio
Vincent William Gagliostro joined the New York art world in 1972, studying at Parsons School of Design. He divided his time between the disciplines of graphic design and painting and had his first solo show in Washington DC, in 1976. A few years later, a growing health crisis in New York's gay community would change his world enormously. In 1987, Gagliostro became a founding member of ACT UP (The AIDS Coalition to Unleash Power), a group which would successfully position the burgeoning AIDS health crisis as a political crisisas well. He chaired the Communication and Graphics Committee. Gagliostro was noted in New York magazine (September 30,1996 issue) for his "in your face" graphic, "make no apologies" style. And also sited in that same issue as one of the six most influential players in the gay community of the time. Andrew Sullivan defined ACTUP as "a new, distinctively gay kind of activism… "The politics of style." During this time Gagliostro became an ad-hoc member of the political art collective Gran Fury. 1997 brought about his first exhibition in Europe, (Hanover Germany). What is notable about the exhibition is when faced with a curator, a sociology professor who 
was intent on exhibiting a number of graphics and propaganda Gagliostro had created for ACT UP demonstrations alongside a series of drawings, he refused to exhibit the posters suggesting that it represented the end of something—suggesting it as 
history "and for me it was not." Gagliostro offered instead his first video work entitled "When Did I Forget?" explaining it would reflect his politics at the time of the exhibit. "I would come to realize the defining effect my work as a political activist had — and continues to have on my work as a visual artist. In the early 90's Gagliostro created with three friends a quarterly journal titled, xxxFRUIT which was then commissioned by the Whitney Museum for an on-line version. At the same time he became the creative director of QW, a New York weekly Gay news magazine. Most recently his focus has been on multi-disciplinary installations with an emphasis on film/video. His film work has been shown in film festivals such as ASVOFF at the Centre Pompidou in Paris, Cannes, Barcelona and New York. The New York Armory Show/Pulse Art Fair, and Scope/New York. His most recent exhibition, titled, (1)CASE, was in Paris 2010. His work is in the permanent collections of Museum of Modern Art (MOMA), NY, Whitney Museum of American Art, NY, Metropolitan Museum of Art, NY, New York Public Library, Victoria & Albert Museum, London, England, Museum of Fine Arts, Boston, MA, Cooper Hewitt Museum, NY, Library of Congress, Washington, Wellcome Trust, Great Britain. Gagliostro has completed the script for his first feature film, After Louie, which he will direct.
Related RSS Feeds