Bustin Boards
Joined

Location

Brooklyn, NYC
Profile Images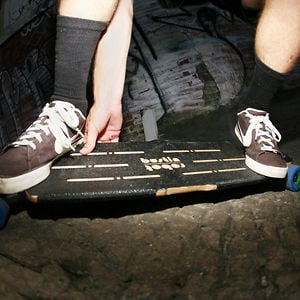 User Bio
The idea began in 2001 when a group of friends in Hagerstown, Maryland decided we were tired of paying good money for junk longboards. After a little research, we started cutting out boards in Ryan's family's barn. Michael tagged up the first board for his cousin Lindsey as a "going away to college" gift and the train started rolling. A few weeks later Mike busted his lip open during a session and on the way to hospital painfully uttered the resulting epiphany, "we should call them Bustin Boards". That summer we made a handful of boards here and there, but spent most of our time bombing hills. Each board we made was new, different and better than the last. We knew immediately what our goal was to be.
Before long our little barn shop became a hub for our ideas and a place to bring them to life. Design, Build, Ride - it was our mission in life and the designs evolved quickly. Before long we were laminating our own boards and producing wild, original shapes. By 2004 we were beginning to see past our humble barn shop. We began planning for a move to New York City and later that year made the jump the big apple. After spending a year crammed in a tiny Greenwich Village shop, we stumbled across our dream space; a 5,000 sq. foot warehouse loft in Hoboken.
In 2009 we moved our company headquarters to Brooklyn's awesome waterfront neighborhood of Williamsburg and opened up our first retail longboard store, 'Longboard Loft NYC,' and then in Aprill 2011, we moved the Longboard Loft to Lower East Side, Manhattan, while the Brooklyn store remains the Bustin Boards Flagship store and shipping facility.
Today, the Bustin Crew is focused on evolving our products and growing the community of longboarders both within NYC and abroad.
Related RSS Feeds