Profile Images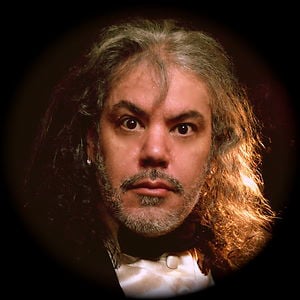 User Bio
Tralian was born April 8, 1957 in Brooklyn New York. He is an eclectic musician that embraces a diversified fusion of genre. A classical composer best known for inventing a two hand tapping method known as the Expansion Principle for which he was awarded a blue ribbon pioneer patent. An historical event in music as it was the first time in history that anyone had ever changed the way a chromatic fretboard was measured and played. He is also the inventor of the fluetar (flutar) an electric diamond shaped fretted string instrument with a counter balancing body specifically made for the two handed method of playing, and he is the inventor of the classical trillo. The purest form of two handed methodology ever invented. A natural inherent fine art acoustical four string diamond shaped instrument for the Philharmonic orchestras and the Symphony. (to be unveiled in 2012)
In 1994 the USPTO granted Tralian the blue ribbon pioneer patent #4,993,300 for inventing a two handed tapping methodology utilizing parallel hands that was not anticipated by the prior art of two handed tapping, which set a precedent in the patent office.
The absolute origin of two handed playing remains unknown, but Jimmie Webster in 1952 has been accredited with being among the first. Since then many have emulated the two handed method of playing and some have designed instruments for the method, but no one had ever invented a method of playing unique from the conventional fretboard of the guitar. (For further clarification see 'Tralian explains the Expansion Principle' video on You tube, and Fluetar.com a site devoted to the history of the instrument (coming soon).
The early years: Tralian was given up for adoption at birth. His ethnic roots are Italian from his biological father and Irish-French Cuban from his mother. His biological parents, a young married couple, both traveling entertainers, felt they could not properly care for their son, so according to state health records asked that he be placed in a stable environment. In actuality the adoption was arranged through a black market baby broker where money was exchanged and he was literally bought and sold. Needing answers Tralian searched for and found his biological family in 2004. He discovered that his roots were very colorful and stranger than fiction, a heritage that included actors, dancers, and musicians, which explains Tralian's passion for the arts. After being given up at birth he was adopted as an only child by a Ukrainian couple who changed their sur name three different times in an effort to keep his birth parents from finding him should they have had a change of heart. Complicating the matter his adoptive father became schizophrenic early on forcing the family into poverty.
The one ray of light was the 1965 World's Fair in Corona Queens. A place where Tralian as a young boy would often visit and derive his inspiration. He found himself drawn to the essence of something intangible that held him there like a vice, only to discover years later that his biological mother Lucrecia had been a dancer at the Fair, sadly, neither of them knowing that the other one was there. Tralian's experience at the World's Fair showed him Michael Angelo's Pieta and views of outer space from the Science building. Where Martin Marietta held shows set to the music of Beethoven and other great composers. If not for these events Tralian may not have been inspired to envision his dream of inventing a new classical instrument for the symphony as he sat on his rooftop at night gazing up at the stars.
In his teens Tralian spent years mastering the electric guitar. Which led him to enter a contest at age 20 in Manhattan New York. Where he competed against hundreds of other guitarists coming in first place. It was similar to American Idol back then. A competition where guitarists would be eliminated and the winner called back to vie with the next.
Yet there was conflict within himself. He was at a turning point in his life that would require a decision of lasting consequence. After he won he could have taken the path of least resistance and pursued a career as an electric guitarist, but he was increasingly being drawn into playing with both hands on the fretboard and to the two handed instrument he envisioned. He found himself on the grounds of Lincoln Center envisioning the enigmatic instrument with aspirations of playing it there. Unable to set this vision aside he veered away from the electric guitar and what he had previously known on the conventional fretboard and began a life long pursuit of his then elusive dream.
During that time he visited a library of music that had photos taken of the sound waves of natural inherent instruments under Kirlian photography, and became in tune to the distance of sound waves which were a prelude to inventing the flag system, which is based on the Expansion Principle. The trillo transcended the flag system into harmonic apertures that release sound waves along the entire diapason of it's hollow fretboard creating a separate point of origin for the instrument. The internal tone bow or pressure bow resonates under the tuned apertures in conjunction with a string chamber located by the chin rather than a bridge that provides the drive system for the trillo's unique sound.


Initially the methodology measured both hands together by utilizing the sharps from the tuning pattern of the strings. Each string became a reflection of the other and thus provided a new continuity for the hands to follow resulting in extended scales and unification of the hands. Later as the method assimilated the sharps were collected into shapes involving the number five which is the number of symbols used in the flag system. By mathematically comparing the distance ratio between octave separation and the flag system Tralian re-measured the fretboard with the five symbols resulting in 60% more musical space over octave separation for the fretboard. This increase in scale produced a new region for the hands to explore and is now termed the Expansion Principle.
Tralian invented the precise body that compliments the two handed method of playing. Shaped like a diamond it is geometrically perpendicular to the neck and counterbalances the instrument from both sides. It tapers to a chin which allows the fretboard to enter into the face of the body at a shorter distance than that of a guitar. The first instrument was electric and called the flutar. Tralian played the first prototype on a cable TV show in 1982. Then in 1983 he appeared on the Joe Franklin Show in Manhattan New York performing the instrument live on national television. In that same year the flutar was published in Guitar Player Magazine, and in 1984 Quarto a subsidiary of William Morrow published the flutar in The Guitar *The History *The Music *The Players. Then in 1985 G.P.I. again republished the flutar in Guitar Gear. Tralian received letters of interest from guitar enthusiasts and players from around the world.
In 1984 Tralian left New York and moved to Los Angeles California. Where he played in various clubs and venues while he continued to pursue his art. In 1990 he joined Disney as a futuristic performing artist where he played for 5 years with the flutar. In 1994 Tralian was granted the method patent that set a precedent in the Patent Office for the new art. The method patent is filed under the name Gary Ejen. Tralian has since legally changed his name to Tralian, a stage name he has used for many years prompted by the confusion of his adoptive parents changing their Sur name three different times in an effort to conceal him.
In 2002 Tralian formed a partnership with an entrepreneur in Los Angeles Ca. to manufacture the fluetar but was met with adversity when his master prototype was stolen. The devastating loss halted the manufacture of the instrument which was five years in the making and stopped his performances. During that same time his adoptive mother fell ill so he returned to New York to spend time with her while working on another fluetar prototype. It was during this time that he found his biological family. Which answered some of his life long questions, and opened and sadly shut a few doors. Finding them was bitter sweet because he learned of his biological mother, Lucrecia, of her mysterious death in Hawaii in 1991, and how she tried to get him back as an infant, only for Tralian to be rejected by his biological sister, but accepted by his biological father, who chose to remain at a distance. He discovered that his talented father, a successful entertainer who performed all over the world and on national TV, was bipolar, and had struggled for years coping with the disorder, which also explained why Tralian had struggled throughout his life with something he didn't quite understand until discovering that he too was bipolar like Beethoven. He also learned that his biological mother Lucrecia was an accomplished dancer and multi-talented musician who appeared on record albums and spoke five languages, another piece of the puzzle that explained Tralian's passion for music.
Shortly after his adoptive mother's death in New York, Tralian relocated to Savannah Georgia for three years where he was inspired to invent the classical trillo. Tralian now resides in Palm Springs California, a place he can finally call home.
References
The Guitar* The History*The Music* The Players
Library of Congress Catalog Card: 83-62354
ISBN: 0-688-01972-2
ISBN: 0-688-01973-0 (paperback)
© 1884 by Quarto Marketing Ltd
Guitar Gear
Library of Congress Catalog Card
Number: 84-62774
ISBN: 0-688-03108-0
© 1985
Guitar Player (SSN 0017-5463) June 1983 by GPI Publications
USPTO #4,993,300 and Des. 281,700
Related RSS Feeds