Emad-ud-deen
Joined

Location

Boston Area & Indonesia
Profile Images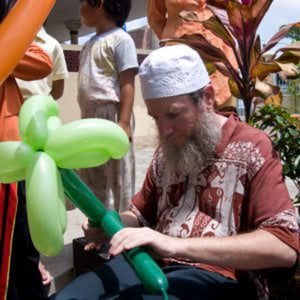 User Bio
I am from New York and now living in the Boston area.
We are a family of 6 if you include our cat and parakeet. My wife is from Indonesia and our 2 children are Isma'il Muhammad (5 years old) and Mustafa Lukeman (3 years old).
One of my hobbies is balloon twisting and I am making money with that hobby. I have been doing mostly birthday parties as well as other events such as raising money for the Mosques close to where we live.
If you live in the Boston area and would like me to twist balloons for your event, please email me on emadOne~=+@bluebottle.com+=~ Just remove the ~=+ characters and change "One" to 1 when you use the email address.
We went on a recent trip to see my in-laws in Indonesia which is shown in my albums on Vimeo. Hope you enjoy the videos.
Truly,
Emad