Santiago Fernández
Joined
Profile Images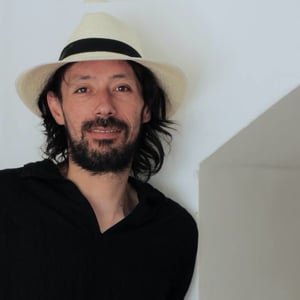 User Bio
Audiovisual Producer
Gratuated as Commercial Artist, parallel to his musical studies as a cellist. Between 1997 and 2005 he was part of the audiovisual collective called "El Barco Producciones" where he worked in coordination and production of projects: "Visaje", winner of the award from the Berlin Ethnologic Film Festival and "Utopias Visuales ", project developed between Bogotá, Solingen and Hilden, funded by CDG Foundation in Germany and Colciencias in Colombia.
He participated as assistant director in the castings from production company "Estudio Babel", choosing the final cast of more than five Colombian and foreign feature films. In 2007 he co-directed and edited ¿Dónde están? (Where are they?),
a documentary film funded with a scholarship from FDC -Fondo para el desarrollo Cinematográfico (Colombian local filmmaking fund). In 2009 he worked as director of School of arts of the municipal culture system of Soacha, Colombia.
Since 2010 he's casting director for short films, feature films and freelance editor for documentary films, fiction and Tv shows. He also has directed different short films like "El Sendero" (The Path), " La Despedida" (The Bounce), "Deadline" and "Doce Gotas" (Twelve Drops).
In 2012's april he was selected for the seventh "Talent Campus Buenos Aires", with his project "El Sendero", a fiction short film.
Recently he has worked as a college teacher in acting and media producing, in "Escuela de Artes y Letras", "Universidad Externado" and "Escuela Internacional de Cine y Televisión de San Antonio de los Baños en Cuba" (EICTV).
Currently he gives lectures and classes of acting for children, directors and professional actors. He's the actor's coach and casting director of "El Abrazo de la Serpiente" (The Embrace of the Serpent), third feature film of Colombian director Ciro Guerra and produced by "Ciudad Lunar Producciones", simultaneously he works in "Demo Tape" his next feature film and he's producing the documentary film "CHAMP".
Realizador Audiovisual
Graduado como Dibujante Publicitario, paralelamente a sus estudios musicales como violonchelista. Entre 1997 y 2005 forma parte del colectivo audiovisual "El Barco Producciones", con el que participa en la coordinación y realización de los proyectos: "Visajes" ganador del premio del festival de cine Etnológico de Berlín y "Utopías Visuales"; proyecto desarrollado entre Bogotá, Solingen y Hilden, financiado por la fundación CDG en Alemania y Colciencias en Colombia.
Como asistente del director de casting de "Estudio Babel" participa en la selección de reparto de más de cinco largometrajes colombianos y extranjeros.
En el 2007 co-dirige y edita ¿Dónde Están? largometraje documental beca del "Fondo de Desarrollo Cinematográfico".
En el 2009 se desempeña como Director de la Escuela de Artes Audiovisuales del Sistema Municipal de Cultura en Soacha.
Desde mediados del 2010 es jefe de casting para cortos, largometrajes y editor freelance de proyectos documentales, ficciones y programas para televisión, además de dirigir varios cortometrajes: "El Sendero", "La Despedida", "Deadline" y "Doce Gotas".
En abril de 2012 es seleccionado para el séptimo "Talent Campus Buenos Aires" con "El Sendero" cortometraje argumental.
Recientemente, ha sido docente universitario de actuación y realización audiovisual, en la "Escuela de Artes y Letras", la "Universidad Externado" la EICTV (Escuela Internacional de Cine y Televisión de San Antonio de los Baños en Cuba). Actualmente dicta talleres de actuación cinematográfica para niños, para directores y actores. Es el preparador de actores y director de casting de "El Abrazo de la Serpiente" la tercera película del director colombiano Ciro Guerra, producida por "Ciudad Lunar". También está desarrollando "Demo Tape", su próximo largometraje y produciendo el largometraje documental CAMPEÓN.
Related RSS Feeds