engine 2 diet
Plus
Joined

Location

Austin, TX
Profile Images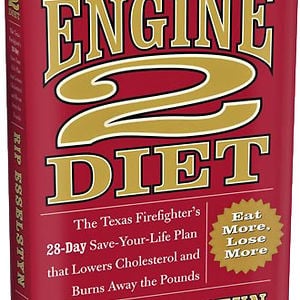 User Bio
Lose weight, lower cholesterol, significantly reduce the risk of disease, and become physically fit—in just 4 weeks. Go plant-strong!
How the Engine 2 Diet Came to Life
As a world-class triathlete turned firefighter, Rip Esselstyn was used to responding to emergencies. When he learned that one of his fellow Engine 2 firefighters in Austin, Texas was in dire physical condition with a dangerously high cholesterol level of 344, he sprang into action and motivated the entire Engine 2 firehouse to join together in plant-strong solidarity to help save the life of their friend.

During his 10+ years as a professional triathlete, Rip had adopted a plant-based diet at the advice of his father, Dr. Caldwell B. Esselstyn, chief of surgery at the Cleveland Clinic, who discovered through medical research that a plant-based, low fat diet could reverse heart disease and diabetes.

By committing to plant-based meals with Rip as their guide, all the Engine 2 firefighters in Austin lost weight (some more than 20 lbs.), lowered their cholesterol (Mr. 344′s dropped to 196), and improved their overal health. Rip outlines his proven plan in his book, The Engine 2 Diet -- now a New York Times bestseller. His plant-powered eating program is based on a diet of whole foods, including vegetables, whole grains, fruit, legumes, seeds and nuts and is designed to transform your body and your lifestyle in just 28 days.

Since Rip joined Whole Foods Market as a Healthy Eating Partner in the Fall of 2009, interest in Engine 2 and the plant-strong lifestyle has increased exponentially as Healthy Eating Specialists at Whole Food Market stores nationwide guide customers in discovering the plant-strong lifestyle through 28 Day Engine 2 Challenges.

With First Lady Michelle Obama's call to end the childhood obesity epidemic within one generation and the surging public awareness of the link between diet and disease – interest in learning what really constitutes healthy eating has never been greater. Even our former fast-food president, Bill Clinton recently announced his new commitment to a plant-based diet -- and he credited Dr. Esselstyn's research for his decision.
Related RSS Feeds
Recent Activity
Line in the sand ... Mine gets drawn tonight! I KNOW going cold turkey works if you give it time, and I'm ready to quit see-sawing.