Profile Images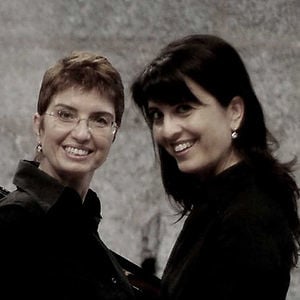 User Bio
The great French pianist, F.R.Duchable depicts Ufuk and Bahar Dördüncü as "two committed pianists equipped with flawless technique, delivering vigorous and evocative performances". Dördüncü duo is distinguished with the magic of exceptional technique coupled with harmony of their long-standing relation manifest in their performances.
Meeting with H. Datyner, D. N'Kaoua , E. Vercelli and V. Perlemutter has played a key role in the Duo's affection for French music, while F.R.Duchable has closely fostered both artists talents with conviction since their adolescence.
The Duo's Ankara, Geneva, Saragosse and Paris awards represents a significant aspect of their music career. Performance at the world's most distinguished concert halls and with conductors like A.Jordan, Z. Nagy, A. Shwinck, P. Rophé, etc.have been elemental to this structural integrity. The artists have also performed at the Victoria Hall Geneva, Saal Moliére Lyon, the palace of Nations in Brazilia, Liderhalle in Sttutgart , Wittengenstein Palace in Düsseldorf etc.; in addition to their collaborations with great artists like Peter Ustinov, Heinz Holliger , Steven Schick, Maurice Bourgue, etc. In Europe, the artists have participated in festivals like Amadeus, Scubertiade, Ars Musica Strasbourg, Archipel, Paris Fontainbleau , Japon Akoyishidai, Australia, etc. and numerous music festivals organized in Istanbul, Izmir and Ankara in Turkey.
As an internationally renowned artists, Ufuk& Bahar Dördüncü are regularly invited to perform with the Ankara, Izmir, Istanbul, Adana and Bursa State Symphony Orchestras, CRR in Istanbul , the Bilkent Orchestra, Ensemble Contrechamps, Geneva Chamber Orchestra, Tokyo Symphony Orchestras etc.
They have got a big success in 2006 with their CD which is, French music for 4 hands named "Rendez-Vous Avec l'Enfance". Their CD, which was realised at the end of 2007, was wellcome with positive reactions from audience and critics. Well known Italian composer Stephano Gervasoni's new piece, composed specially for Makrokosmos, also took place in this CD. Following that CD, they were invited to Japan. In 2009, their new CD, including 2 piano pieces of Prokofiev and Schostakovich, was produced by 'Hat Hut Records Basel'. This CD had very positive responses from Critics and Audience, thanks to originality of pieces and the interpretation of the Duo. In the beginning of 2010, with their quartet, they particpated in a short-film project, which was realised by famous producer Carlo Ippolito, whose music was composed by Xavier Dayer and interpreted by Makrokosmos. The world premier of the film, together with live music performance, was realised in the legendary Globe building of CERN (European Organization for Nuclear Research), on April, 2010. The Duo continues to impress its audience with their original and unusual projects.
Acclaimed as "Cultural Ambassadresses of Turkey", they continue to represent their country all over the world with much-admired performances received enthusiastically by prominent critics. Also they have been invited and honored to be "Marraines" by Fondation of Prim'enfance and Cercle de Grange..
Related RSS Feeds
Recent Activity
ufukbahardorduncu does not have any activity yet.