Idriss El Mehdi
Joined

Location

France
Profile Images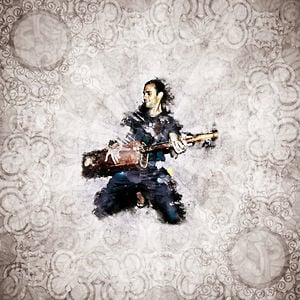 User Bio
Idriss El Mehdi Bennani was born in Casablanca in Morocco in 1972. Idriss El Mehdi is his first name. French mother and Moroccan father. His parents, from Muslem and Christian heritage, are intellectuals keen on music and liberal cultures. He discovers the piano when he's 10 years old with Caroline Deckiard, classical pianist who had learnt the standards of jazz with Hollywood GI's during the Second World War. Casablanca is considered at the time as a modern laboratory. Following a friend of the family, saxophonist Bryan Wood, survivor of the beat generation becomes the mentor of the young man, and they start playing together.
The pre-teenager starts his first experiences as Rachid El-Garab's sideman among other jazz musicians of Casablanca: at the age of 16 their encouragement leads him to found his first band "Plaid Swine Jello". He plays with Hakim Nejjar (Bass) and Noël Santucci (Drums). He discovers Coltrane, Keith Jarett, and Bill Evans's music. Always smiling, Idriss El Mehdi ends his secondary education at the French Lycée Lyautey of Casablanca. His parents encourage him to go to Paris. He studies at the "American School of Modern Music" and obtains the diploma of composition and arrangement, then he refines his technique at the "Bill Evans Piano Academy" where he has Samy Abenaim and Bernard Maury as teachers.
He often goes back to Morocco to visit Mahmoud Guania, the master of Gnawa Music who also recorded with Pharaoh Sanders. Mahmoud Guania introduces him to the guembri. This ancient instrument is an Africain bass carved out of a tree trunk, covered with camel skin. Mahmoud Guania is a leader of the Gnaouas descendants brotherhood who used to be black slaves brought into Northern Africa by Arab Kings. Idriss El Mehdi is facinated by the Gnawas, by their rituals of possession and trance. Now, with the"Hajhouj" (guembri) in one hand and the keyboard in the other he's ready to enter the world of universal music. In 1997, he invites Mahmoud Guania for a gig at the final closing of the Festival Marathon des Sables.
Idriss El Mehdi assimilates the tradition of mystical Gnawa songs and the guembri. He's interested in the famous Sufi incantations, music that spins like a top. Idriss El Mehdi starts to compose his first songs in French Pop-Folk-Gnawa. "A sweet and soft voice disturbed by the ancient Gnawa's weepings". Idriss El Mehdi says with a smile: "My first meeting with the guembri was love at first sight. I was immediately amazed by this instrument made out of wood and skin. For so many years, me, the pianist had been used to having access to 88 notes of music to express myself, I found myself challenged with three simple chords made out of goat gut. And within these strings remained the History of Music since its creation".
In 1994, obsessed with Moroccan and Oriental music from his childhood, he creates the Mehdi Bennani's Quintet with Boris Blanchet, Marc Buronfosse and Lionel Boccara. They perform in Jazz clubs all over France, Europe and Morocco: *Jazz Festival Oudayas' in Rabat, the Tangier Festival, Essaouira Festival with Rick Marguiza and Dakhla Festival. His work combines the sounds, colors and poetry of Oriental to Jazz harmonies: El-Maâlem, Jasmine Flower, Oriental Dream, Chikhat delight the audience. The journalist N. Al Ashari of Teleplus wrote: "A heated jazz that smells of I don't know what homeland… that fuses with with classical rhythms from time to time" In parallel, he collaborates with famous pop singers: Axel Bauer, Christophe, Rasmaila, Hubert Mounier (L'Affaire Louis Trio) Amar Sundy, Bruno Maman, Teofilo Chantre, Michel Delpech, Luz Casal. He also tours with Calogero for ten years. Thanks to this experience of spectacular tours and shows, he's now ready to focus on his own musical projects.
Idriss El Mehdi continues to explore his musical journey. He composes his first song with the guembri: "I imagined a blend of Moroccan and Brazilian rythms. I named it Guembaia and asked my friend Teophilo Chantre to write the lyrics in Portuguese, a simple text with a Gnawa Spirit. This is the beginning of his new band: The Bladi Band. What does Bladi mean?: My hometown, my country. Idriss El Mehdi travels to the northwest between gnawa trance rituals, Brazilian Macumba, African music's spirituality, old European pop music. France becomes too limited for him, his initial French songs move towards the English language, with songs such as: No Problem, Kill The Beast, Wild Bird, One O One … Idriss El Mehdi is a fan of Ben Harper and Fela Kuti. He goes from Africa to Africa through the U.S. and Europe.
Idriss El Mehdi plays the Gnawa pentatonic scale, with major intervals. Still smiling, he pulls the strings of his guembri down, he takes the minor third down to the note of cries, the blue note, "Magic". He pulls the strings up and turns the sixth major into seventh minor, the second blue note "Mojo". The magical charm of the Mississippi Delta blues coincides with the healing Gnawa Music. The circle is complete to create music that we need: After World Music. Idriss El Mehdi is engaged in exchanging with others. His Humanist dream coincides uniting the extremes of Oriental/Occidental mixing styles and cultures thanks to his guembri. Tony Allen is seduced by his original electro-rock guembri style. He asks Idriss-el-Mehdi to play drums on his latest track No Problem. Here comes a new adventure: Long life to the Piano Transe, Guembri, Afro-Music that brings people together in a world of hardship.
Related RSS Feeds