MovingImageMovingBody
Plus
Joined
Profile Images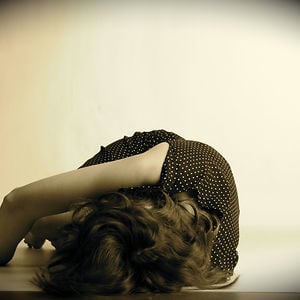 User Bio
VITA FREELANCED ARTIST NAVINA NEVERLA
Navina Neverla, born 1984 in Munich, Germany of an Indian father and Austrian mother. Navina works as a freelanced artist, between the Visual and Performative Arts, namely the Moving Image and the Moving Body. Her work has been presented at various national and international art contexts, filmfestivals and choreographic plattforms since 2007.
In 2012 Navina has been granted a residency at Fleetstreet Theatre Hamburg, where she developed her own artistic work "Gedankenspiegel [step two]" – the aim of this piece was the conceptual interest to deconstruct the media Film and Dance in order to merge them into a new context and form, that defies categories. The work premiered at Fleetstreet in July 2012 and was funded by the Cultural Ministry Hamburg, Hamburgische Kulturstiftung and Rudolf Augstein Foundation.
A first and contuing progress of "Gedankenspiegel" has also been presented at K3 Center for Choreography Hamburg at Kampnagel in the context of Trial Stage One. Additionally it has been presented at DanceKiosk Festival Hamburg and at the Young Artists Festival "Tanz in den Gängen" at Gängeviertel Hamburg.
Older works, that mainly include Videoinstallations and socially motivated essayistic documentaries such as "Moveo ergo sum" [funded by the Ministry of Culture Hamburg] were shown, amongst others at Kampnagel Hamburg, Ambulart Festival of Visual Arts Mexico or Künstlerhaus Vorwerkstift Hamburg as well as at various other international Filmfestivals.
As a performer and dancer Navina has worked with Bojana Cvejic and Christine de Smedt at Tate Modern, Vania Rovisco at the Attic ans Zé dos Bois Lisbon, God's Entertainment at Brut Vienna, Isabelle Schad in Hamburg, Kavata Mbiti in Hamburg, Paul Estabrook, Elizabeth Ladron de Guevarra and Soundartist Bilwa William Costa amongst others.
Navina holds a diploma in Visual Communication from HFBK Academy of Fine Arts Hamburg as well as a BA in Mediaculture from University of Hamburg. Furthermore she has studied at Faculty of Fine Arts Lisbon in Arte Multimedia and at Ar.co Centre of Visual Arts Lisbon 2008/2009.
In 2013/14 Navina undertakes a one-year full time Master Programme in Creative Practice - Professional Pathway at Trinity Laban in association with Siobhan Davies and Indpedendent Dance London.
Navina has seeked further education in Dance, Choreography and Performance since 2009 at Lola Rogge School Hamburg, SNDO Amsterdam, K3 Center for Choreography | Tanzplan Hamburg and ImpulsTanz Festival Vienna. Moreover, she has seeked technical dance training since 2003.
Since 2010 Navina has been involved in Research and Mentoring programmes, amongst others with Jeremy Wade, Jonathan Burrows, Keith Henessy, João Fiadeiro, Amanda Piña, Aitana Cordero, Ibrahim Quraishi, Jared Gradinger, Erna Omarsdottir, Jennifer Lacey. and Rosemary Butcher. She has seeked professional dance training with the Forsythe Masterclass, Rasmus Oelme, Kerstin Kussmaul, Matthieu Burner, Bruno Caverna, Marta Coronado, Francesco Scavetta and many more. As a choreographic assistance she has worked with Victoria Hauke and Philipp van der Heijden in Hamburg.
Furthermore Navina is teaching Contempory Dance and Improvisation, Creative Dance for Children. She has recently accomplished a certificate as a Yoga Teacher from the Underground Yoga Parlour for Self-Knowledge and Social Justice. To make a living Navina regularly obtains part time and freelance jobs in the field of Film, Media and Public Television since 2004.
Navina is a cultural hybrid – this creates the urge for her to think crosscultural and transdisciplinary.
For more Information please see: MovingImageMovingBody.com.
Related RSS Feeds