Samuel Magal
PRO
Joined

Location

Israel
Profile Images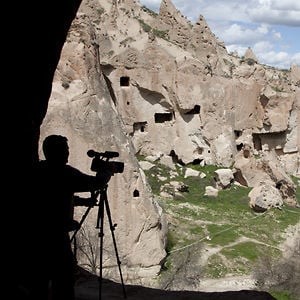 User Bio
Samuel Magal is a photographer specializing in the documentation of archaeological sites,
ancient art, medieval architecture and museum exhibits.
Samuel was born in Kibbutz, in southern Israel. As a teenager he started to take
interest in photography, and would take his camera along to wherever he went.
Later he studied for a Bachelor's degree in Archaeology in Haifa University, and
specialized in Classical and Marine Archaeology.
During his time as a university student he came to realize how limited the photographed
documentation of archaeological sites and monuments was. As a result, he set out to
document, film and photograph as many sites as possible before they disappeared forever at
the hands of man and time. Since 1999 he has traveled on dozens of excursions,
photographing and filming hundreds of Mediterranean archaeological sites and museums. His
effort and devotion have led to the compilation of a vast archive of over 350,000 images and
20,000 videos pertaining to archaeology, architecture and ancient art.
In 2006 Samuel founded Sites & Photos, a unique stock media company specializing in
Archaeology, Architecture and Ancient Art. The company answers the great demand for an
organized documentation of archaeological sites, medieval architecture and ancient art.
Samuel is the only photographer in his company. Lately, he has expanded his photographic
subjects to modern architecture and landscapes. Today, the comprehensive photographic
collection serves as a valuable resource for worldwide academic libraries, publishing
companies, museums, production companies and others.
Samuel continues to go on photography campaigns several times a year, both to new
locations and to old ones, where advances in photography equipment can produce better photos and footage. In the coming years, he plans to expand his photographic coverage to
Eastern Europe, South America, the Far East, India and North Africa.
Related RSS Feeds