Dave Barber
Joined

Location

Winnipeg, Manitoba
Profile Images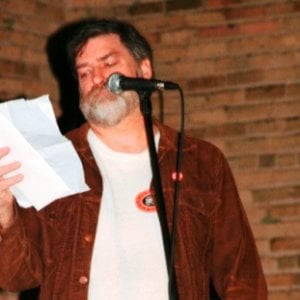 User Bio
Dave Barber has been programmer at the Cinémathèque since 1982. He has been a crucial figure in the development of independent cinema in Winnipeg and an outstanding ally to generations of Winnipeg filmmakers.
Winnipeg has not always been a "filmmaking civilization. Only in the last 25 years has this become a tangible reality, and if we were to piece together the historical evolution of filmmaking in Winnipeg, we would see that Dave Barber has been an absolutely vital figure. As early as 1982 Dave was bringing art house films to Winnipeg that were completely inaccessible to local audiences and artists. He is a cultural pioneer, who managed to break down Winnipeg's notorious isolation. In the process, Dave not only enriched Winnipeg culture, but most crucially he introduced emergent film talents in Winnipeg to the cinema of the world. A cinematic culture does not emerge in a vacuum, and in the work of every Winnipeg filmmaker are ideas and visions that began their gestation in Dave's Cinémathèque's programs.
Dave's place in the annals of Winnipeg film history is also assured by his extraordinary devotion to the development of an indigenous Winnipeg cinema. He programs and promotes even the lowliest of local films with the same enthusiasm, vigor, and publicity as he does the work of any international film master. The Cinémathèque is the only theatre in Winnipeg where the general public can consistently encounter Winnipeg cinema. Without Dave Barber many local films would be lost to the mists of oblivion and local fimmakers would never discover their talent for communicating with an audience. Dave Barber has been a huge source of encouragement and support for multiple generations of Winnipeg Filmmakers.
2007 marks Dave's twenty-fifth year as Cinémathèque's programmer. With his world-class programming skills he could easily have moved away to Toronto or Vancouver, but Dave has refused to leave Winnipeg because he is first and foremost devoted to Winnipeg and the development of local cinema. He has truly made a difference for Winnipeg fimmakers and Winnipeg audiences.
Related RSS Feeds