Vanias Vlachodimitropoulos
Joined

Location

Athens
Profile Images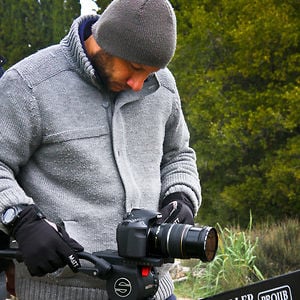 User Bio
PROFILE:
A highly competent director with almost two decades of experience in the TV and Media field. I have been part of a great number of diverse collaborations and have had the opportunity to acquire knowledge and expertise in many different sectors of the biggest TV Networks in Greece.
EXPERIENCE AS DIRECTOR:
'PRAKTIKER' TV SPOTS — 2010-2011
Directed all of the company's TV commercials for two consecutive seasons.
NATIONAL TV AND RADIO NETWORK OF GREECE — 2008-2012
Director in the sports department.
NATIONAL TV AND RADIO NETWORK OF GREECE — 2008
TV DIY show 'Oti ftiachnetai, to ftiachnete' ('You can make, whatever that can be made').
MINISTRY OF CULTURE — 2008
Documentary for the New Museum of Acropolis.
SKAI NETWORK — 2008
Travelling-cooking show 'Mageiremata'.
ANT1 CHANNEL — 2008
The 'X-Factor' auditions.
KINO PRODUCTIONS — 2008
Event of the Ministry of Health against cancer.
MEGA CHANNEL — 1999-2009
In the News Department for all-day news, breaking news and outdoor transmissions.
ALPHA CHANNEL — 2006
At the 'Dream Show - House'.
ALPHA CHANNEL — 2005
At the everyday, live show 'Mageirevontas me ti Vefa' ('Cooking with Vefa').
SMART TV — 2008
Football final match , live news show 'Osa zoume simera', live financial show 'Odos Sofokleous', live sports show 'Apo ton kouva sto tameio'.
SAFETRACK — 2000-2001
Directed and produced 3 TV commercials (lasting 1min, 10 min. and 17 min. each) for the safe driving school 'SAFETRACK' which were included, as videotapes, in the magazines: 'Formula 1', '4WHEELS', 'Sound and Hi-Fi'.