Vasey
Joined

Location

Nottingham, UK
Profile Images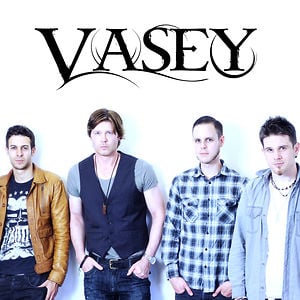 User Bio
Vasey are a Nottingham based Rock band, fronted by the larger than life singer/songwriter Karl Vasey. After spending a year in the USA, Karl generated a following through his debut EP "Out of the Imaginary", released purely under the moniker of his surname. The Stateside journey began when Karl was contacted by two successful producers whose musical credits between them included artists such as Bon Jovi, Bob Dylan and The Grateful Dead. After spending several months working on new material in New York, his contacts in Los Angeles were starting to wonder if he would ever make the journey across America. So with just a guitar and a backpack, he bought a one-way Greyhound ticket to L.A. where he began working under a management company and record label, playing shows in Beverley Hills and Hollywood. Returning to the UK armed with a handful of beautifully crafted acoustic songs and demos, Karl made a pact to record "The Perfect Album".
Exposed to the American "Stadium Rock" sound of bands like The Goo Goo Dolls and 30 Seconds to Mars during his time in the US, Karl decided to take this influence and expand on it by recruiting UK musicians from different musical backgrounds. Bass player David Amar coming from a Soul/Latino/Jazz background added a groove usually missing from the AOR sound.
Guitarist Ben Perdue brought a distinctive playing style that would compliment any Punk Rock band, yet somehow molded his fast down stroke attacking rhythms to perfectly suit the band's songs. Those huge power chords laced with intricate guitar hooks underpinned Karl's melodic vocal sensibilities, and forged the band's guitar sound.
Aidan Hunnisett completed the band lineup providing the edgy Punk influenced drumming that is the driving force behind the band. His unique approach to writing drum parts and laying down consistent time is key to the whole platform the songs are written on.
Along with some of Rock's greatest bands (Van Halen, Bon Jovi, Winger… Well, maybe not Winger), the newly formed four piece kept the Vasey name and got straight to work on their debut album in Karl's home studio. The meticulous attention to detail Karl has with his songwriting made the writing and recording process slightly longer than that of some bands, but the reward is an album that sounds timeless and could be hailed as a classic in years to come.
The band are due to release their debut single "The Otherside" and accompanying video on July 30th 2012, with the album to follow in late 2012/early 2013. They will then be hitting the road and hopefully playing in a town near you!
Related RSS Feeds