Victor Gama
Joined

Location

San Vicente de Alcántara
Profile Images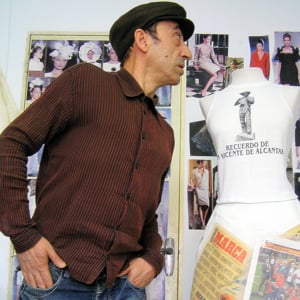 User Bio
Victor Gama nació un 15 de Enero de 1958, en la localidad extremeña de San Vicente de Alcántara (Badajoz).
En el año 1982 inició sus estudios en la Escuela Profesional de Técnicas Industriales GOYMAR (Madrid), y en el año 86 consiguió su licenciatura en diseño de modas, patronaje y escalado.
En el año 1985 y 1986 desfilaron sus primeros modelos en la CASA DE LA CULTURA (Madrid), haciendo su presentación como diseñador profesional de moda en el Teatro Auditorio de la CASA DE CAMPO (Madrid). Desde el año 1990 hasta el 2001 trabajó para las firmas ROSY COSTURA, LA TUA PELLE, GALATTI e ISABEL LEGUINA.
Desde que comenzó su andadura como modisto, hasta la actualidad, ha participado en numerosos desfiles por todo el territorio nacional.
La exquisita meticulosidad con la que trabaja los tejidos y los más mínimos detalles, hacen de sus vestidos autenticas artesanías.
Victor Gama was born on January 15, 1958, in the town of San Vicente de Extremadura Alcantara (Badajoz). In 1982 began his studies at the Industrial Technical Professional School Apparel GOYMAR (Madrid) and in 86 he got his degree in fashion design, pattern and scale. In 1985 and 1986 marched his first models in the HOUSE OF CULTURE (Madrid), making your presentation as professional fashion designer in the Auditorium Theatre COUNTRY HOUSE (Madrid). From 1990 to 2001 he worked for firms ROSY FASHION, THE TUA PELLE, ISABEL Leguina, Galatti. Since beginning his career as a couturier, to date, has participated in many parades throughout the country. The exquisite care with which tissues and works every detail, his clothes make authentic crafts.
Related RSS Feeds