Scary Special Effects
So, you've got a great idea for a thriller movie that has it all-- ghosts, zombies, and some cool gun fights. But how do you pull off such a daunting task on the cheap? Not to worry! Scary special effects, while sometimes complicated, can also be done quickly and safely.
Not convinced? Take a look at the video below for three DIY effects you can make with easy-to-find supplies in a matter of hours. No need to worry about blowing yourself up either!
Below are some example images along with a breakdown of the techniques we used for each effect-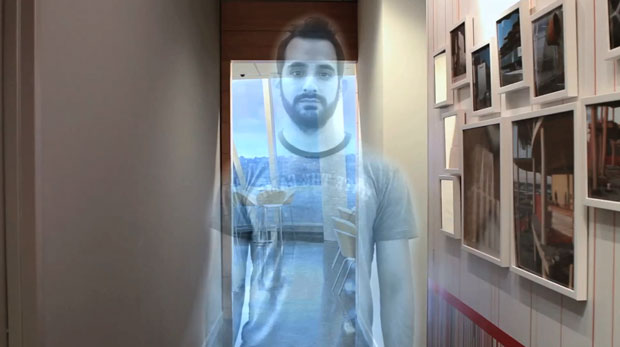 Ghost effects: (Dan as a ghost)



First, make sure you are using an editor that can complete a chroma key effect, we'll be using Final Cut Pro.


Shoot your actor on a solid wall or a a green screen. Be sure to make sure the wall is evenly lit and then film your actor.


Import and place the ghost clip into your timeline and double-click to select it. Then open the effects menu and locate the Chroma key effect.


Select it from the menu and it will open a new effect tab on the left viewer window. Click the Chroma Key tab to open the effect settings, then select the eye dropper icon on the right.


Select the background of your clip with the eye dropper to erase it.


Now place the footage of your background or other actors behind that of your ghost footage and you should see the beginnings of the effect.


Double click your ghost clip again, then find the Tint effect from the effects menu and select it. Open the effect tab and select the black box which will open a color picker. Choose a grayish-blue and click OK.


Now choose the motion tab in the left viewer window, and open the Opacity drop down. Lower the opacity until you think it looks good!
P
Pro tip:
If you're having trouble keying out the background of your footage, try playing with the brightness and contrast first. Making the wall a solid color (even in post) is the most important, the skin tone of your actor is not so much.
We had to use a Chroma Key effect and a Luma Key. You can apply multiple keying effects to get the best result.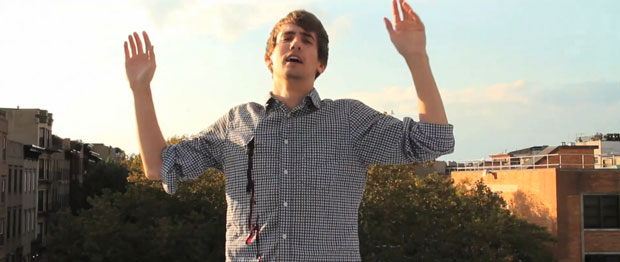 Squibs:
(
Matt
with a fake gunshot wound)


First, cut enough fishing line for it to be tied to the washer and held off camera by the person operating the effect. Then tie one end to the washer.


Next, super glue the washer to the center of the prophylactic.


Now start filling the prophylactic with fake blood, about the size of a bouncy ball. Let some air in then tie it off.


Set the blood packet aside and cut out a cardboard square. This should be large enough to let the prophylactic sit on it, but also give you an edge to tape it to your actors chest.


Now tape the prophylactic to the cardboard square making sure not to get the washer or fishing line. Use the tape on all the edges to make the blood packet bulge up in the center. This pressure will help it go off easier.

Next, grab that old t-shirt and cut an X pattern. The hole doesn't have to be that big, and this pattern will help hide it from the camera. You can also tape the hole shut from the inside after you've run the fishing line through it.


Now take your squib and tape it to your actors chest using the cardboard plate as a base. Make sure you position it where you cut your hole before taping it down!


You can now run the fishing line through the hole and button up the shirt.
P
Pro tip:
Try wrapping the fishing line through the hole in the washer a couple times before tying it off. This will help keep it from breaking when you give it the final tug.
You can also tape the filled prophylactic to the cardboard plate first, then super glue the washer to the center of the bulge afterwards to make sure you get it centered.
We would not recommend taping the squib right to your actors chest without cardboard. Taking it off will hurt!
When you purchase supplies, chances are you'll have enough to make more than one squib, and you'll probably need to test a few to get the effect just right!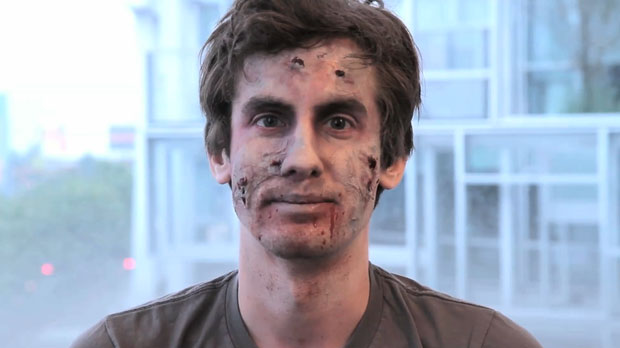 Zombie Makeup:
(
Matt
as a zombie)


Start with a base coat of white makeup to pale out your skin. Be sure to get the ears and neck!


Next, lay down a base layer of latex where wounds will appear. Remember to wait a couple minutes for it to dry clear before applying anything else. You can use a ripped make-up sponge for this.


Once the latex is dry, take ripped tissue paper and apply it on top of the latex. Then apply more latex to hold the tissue paper down.


When that dries, you can rip holes in the tissue paper to create realistic wounds.


Now you can start shading. Use dark colors around the eyes and forehead to create a look of a skull beneath the skin.


Next, try adding black and red makeup inside your wounds. This will give them depth and realism. You can also add fake blood on the outside of the tears in the tissue.

If you have the supplies, try dragging (very lightly) a green pencil up the side of the face and neck to create fake veins.


Now you can lighten your lips with more white make-up. Be careful not to get this in your mouth!


As a finishing touch, try putting fake blood on a tooth brush and flicking it around your face, mouth, and neck. You can also use hair gel to create a messy head, and add white powder to make the hair look dead.
P
Pro tip:
Hana is a professional make-up artist, so don't be bummed if your zombie isn't just like hers but remember these supplies can be purchased anywhere. Following the same basic steps will get you a great result!
Some people are allergic to latex. Do not apply it to anyone's skin without making sure it is safe!
Hopefully these techniques will come in handy next time you decide to make something spooky. I encourage you to experiment but most of all, have fun with your new knowledge!
Ready for a challenge?
Create a video using these tips!
Accept this challenge
Check out the other episodes in this series:
Category:

Difficulty:
Lesson Summary
Is your video lacking in the scary effects department? Think it's impossible to create convincing visuals on a budget? Well special effects aren't as hard as you think. We'll show you how to create three easy effects you can use to make your videos super scary!
New to Video School? Read our Frequently Asked Questions.
Submit Your Tutorial
Most of the video tutorials in our Video School lessons come from Vimeo members. If you have a tutorial you'd like to share, please submit it here.