Stefan Roloff
Joined

Location

New York
Profile Images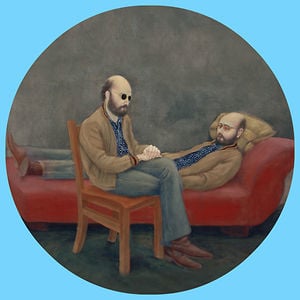 User Bio
Stefan Roloff is an artist and film maker, working in New York and Berlin. From 1974, he studied painting and video at the art academy (HdK) in Berlin, Germany. After spending one year in Mexico, he graduated in 1981 and moved to New York in 1982.
In 1984, he was invited to experiment on prototypes of digital video and imaging computers at the New York Institute of Technology. Here, he created "Face", his first Moving Painting which, produced by Peter Gabriel, was the predecessor of his video "Sledgehammer". During the following years, he continued to combine his paintings and videos in collaborations with musicians. (For example "Zaar" with Gabriel, "Dominic Christ" with Suicide and "Big Fire" as part of live- and studio collaborations with Jazz musician Andrew Cyrille.)
In 1989, he received a Fellowship from the New York Foundation for the Arts for his digital work. His art- work and installations are shown world- wide in museums and galleries.
From 1989 to 1999, he worked on his first documentary film "Seeds". Traveling through remote areas of West Virginia, he followed the story of a 22- year old woman who committed suicide in 1981 in an isolation cell at the State Prison for Women. The film was combined with an installation, "Pence Springs Resort", a life-size three-dimensional photographic rendering of the isolation cell which the viewers could physically enter.
In 1995, he received an Art Matters grant for this project.
In 1997 he began to work on his second documentary film "The Red Orchestra". The film is a portrait of his late father, Helmut Roloff, a resistance fighter against the Nazis. It was nominated best foreign film 2005 by the Women Critics Circle. For the first time it told the true story of the "Red Orchestra", a resistance group that was slandered during the cold war by secret services and historians as a Communist spy network. For this film, Stefan Roloff received a 2002 New York City Media Arts grant from the Jerome Foundation. (See rotekapelle-redorchestra.com). He also wrote a book in German, "Die Rote Kapelle", published by Ullstein in 2002.
Since 2007, Stefan Roloff is collaborating with Carola Stabe, a former GDR dissident, on "Cafe Holland", the script for his first feature film. For this work, he received German BKM and European MEDIA funding.
Video Compilations
"Play the Videos" Peter Gabriel
"US", Peter Gabriel, Real World
"Black Box", Suicide, WaxTrax!Records: The First 13 Years

Selected Collections
Auschwitz Museum, Auschwitz-Birkenau; Holocaust Exhibition, Imperial War Museum, London; Holocaust Documentation and Education Center, Miami; Gedenkstätte Deutscher Widerstand, Berlin
Selected screenings of videos- und documentary films, Installations
2011 "4 Video Projections", Ninna-ji, Kyoto, Japan
"Lindenhotel – Bob B." at Rencontres Internationals, Museo Reina Sofia, Madrid, Haus der Kulturen, Berlin
"Das Schweigen" – Videoprojektion, Uckermärkische Bühnen, Schwedt
2010 "Lindenhotel – Bob B." at Rencontres Internationals, Centre Pompidou, Paris
"Let There be Light" at Rohkunstbau, Schloss Marquardt, Marquardt
"Lindenhotel", Lindenstrasse 54, Potsdam - vimeo.com/13389500
2009 "Layers", Gallery Deschler, Berlin
2008 "1+1" Pierogi Gallery, Leipzig; "Red Orchestra", Al Jazeera Satellite Network, Rialto Film Channel Limited, New Zealand
2007 "Red Orchestra ", Balkan Bulgarian Television; Histoire, France
2006 "Prinz Albrecht Str. 8", Altes Rathaus, Potsdam
"Red Orchestra " Australia - Nine Network TV, Israel - Tel-Ad TV Broadcasting Poland - Canal + Cyfrowy TV, Netherlands - TDM
2005 "Red Orchestra" Anthology Film Archives, New York City, "Grand Illusion Cinema", Seattle, Goethe Institute, Leo Baeck Institute, NY City
2004 "Red Orchestra" Dokument Kino, Berlin; Arsenal, Berlin
"Altered States" Kunsthalle Osnabrück
2003 Filmstock, curated by Carlo Mc Cormick & Tessa Hughes Freeland, New York City
"Red Orchestra" 3001 Cinema, B Movie, Potsdam Film Museum; Arsenal, Berlin
1999 "Seeds", Arsenal, Berlin (17. Juli, 1999)
"When 6 Is 9" Galerie Deschler, Berlin
1997 50th Anniversary of UNESCO - Together in the World, Zenith, Paris
1996 Envideo, Gran Teatro, Caceres, Spanien
Television Española
1995 "Pence Springs Resort", Thread Waxing Space, New York City
1994 First Gramercy International Art Show, New York City
1993 Womad Festival, Spanien
1992 The Seed Hall, Tokyo, Japan
Casa de Cultura Basauri, Bilbao, Spanien
Deutsche Welle TV, Berlin
1991 II Festival de Musica Visual, Lanzarote, Spain
Palau Solleric, Palma de Mallorca, Spain
1990 Casa de Cultura Laura Alvim, Rio de Janeiro, Brazil
International Electronic Cinema Festival, Tokyo
Metropolis, Television Española
MTV, USA Network, VH1
1989 NHK (Japanese Broadcasting Corporation)
Canal+, Paris
Today Show, New York
Centre Pompidou, Paris
1988 NHK, Japan
3. Videonale, Bonn
Marche International du Film d'Amiens, France
IFP, New York (Independent Feature project)
1987 Digital Visions, IBM Gallery, New York City
"Big Fire", Second Emerging Expression Biennial, Bronx Museum, New York
1986 2. Videonale, Bonn
The Expanded Image, Video and Computer Graphics, NEWCOMP, Cambridge Massachusetts
Video installation, Kaufmann Astoria Studios, Queens, New York
1985 "Face", Art Palace, New York City
1982 "Die Dicke", Fashion Moda Benefit, Danceteria, New York City
Since 2008: Creation of, to date, 60 interviews with eye- witness testimonies about GDR- related subjects like resistance, Zersetzung (a secret Stasi technique aimed at driving dissidents into self doubt, inner isolation or suicide), Stasi incarceration, and others, with the goal of creating a readily accessible video archive on the internet. One example: vimeo.com/20672982
Since 2002: Creation of, to date, 30 videos for an audiovisual live- concept with the musician Martin Rev. examples: martinrev.com/video.html
2008 MEDIA grant (Europe)
2007 Massachusetts Foundation for the Humanities grant
2006 BKM grant (Germany)
2005 Nomination "The Red Orchestra", Best Foreign Film 2005 – US Women Critics Circle
2002 Jerome Foundation, New York City Media Arts Program
2002 "Red Orchestra", produced by Das Kleine Fernsehspiel, ZDF, When 6 is 9 Productions and Hybrid Films Inc. New York. 81 Min.
rotekapelle-redorchestra.com
1999 "Cabezera Raquel", produced by Hervè Hachuel / Tesauro, Madrid und When 6 is 9 Productions
1997 "Mirage", produced by Stefan Roloff and When 6 is 9 Productions with WW Productions
"Liquid" produced by Stefan Roloff and When 6 is 9 Productions with WW Productions
1996 "Seeds",produced by Audra Allen, Stefan Roloff and When 6 is 9 Productions
1995 Art Matters Grant
"The Year of the Stone", produced by Audra Allen, Stefan Roloff and When 6 is 9 Productions
1993 "Meditation in the Roaring Twenties", produced by Eva Müller, Stefan Roloff and When 6 is 9 Productions
1992 "What's Going on?", produced by Stageways Productions, London/Madrid and When 6 is 9 Productions
1990 "The Visit", produced by REBO High Definition Studio, New York, Stefan Roloff and When 6 is 9 Productions
1989 Fellowship Award, New York Foundation for the Arts
"Dominic Christ", "Surrender", Videos for Suicide LP "Way of Life", produced by Stefan Roloff, Eric Spiegel and When 6 is 9 Productions
"ZAAR", Video for Peter Gabriel LP "Passion", produced by Stefan Roloff, Eric Spiegel and When 6 is 9 Productions - vimeo.com/5632952
"Fireball", produced by Stefan Roloff, Eric Spiegel and When 6 is 9 Productions
1988 "Still Life", produced by Stefan Roloff, Eric Spiegel and When 6 is 9 Productions
1987 "Lunch", produced by Stefan Roloff, Eric Spiegel and When 6 is 9 Productions
" Beethoven", produced by Stefan Roloff, Eric Spiegel and When 6 is 9 Productions
"The Room Mate", produced by Stefan Roloff, Eric Spiegel and When 6 is 9 Productions
1985 "Big Fire", digital video, produced by New York Institute of Technology, Stefan Roloff and When 6 is 9 Productions - vimeo.com/27938177
1984 "The Face", produced by New York Institute of Technology, Peter Gabriel, Stefan Roloff and When 6 is 9 Productions - vimeo.com/24244708
1980 "Die Dicke", "Fopo Fever", produced by Stefan Roloff
Related RSS Feeds