Wingsuit Jeff Nebelkopf
Joined

Location

Planet Wingsuit
Profile Images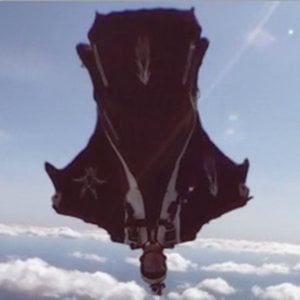 User Bio
Jeff Nebelkopf, a full-time sponsored professional skydiver, is the Co-founder, Head Wingsuit Designer and Chief Test Pilot at the Tonywingsuit company, which produces the fastest-selling wingsuit brand in the United States. Jeff has presided over nearly every major innovation in wingsuit construction and design over the past five years. As a Wingsuit Instructor and Coach, he has also trained hundreds of new wingsuit pilots from more than 30 countries and was the founder, executive, and visionary behind the 2008 71-person Wingsuit World Record attempt.
In addition to designing and teaching, Jeff owns his own art and videography company called Foghead Studios. His in-air videography credits include the first ever live broadcast of a wingsuit jump for NBC's Today Show, and film of Jeb Corliss proximity-flying down Mount Fuji for a Japanese television show, "World's Most Fantastic Heroes". In October 2008 he filmed the Mixed Formation Project (wingsuits flying with a parachuter) for ESPN.
Trained as a visual artist and sculptor, Jeff owned an ice sculpting business and worked as a commercial artist for 20 years. He now wields his chainsaw and chisel mostly for fun, putting on live ice sculpting performances all over the country.
To schedule an appointment for wingsuit coaching beginner to advanced contact me at: uwingsuit@gmail.com
My website fogheadstudios.com
The Wingsuit Channel: vimeo.com/wingsuits
Thank you for visiting, come back soon to see my new videos.
Please visit my sponsors web sites: miragesys.com/ cypres.cc thebaser.com flexvision.com lookma.de skydiveseb.com skydivenewengland.com
Also some great photographers sites: scottyburns.com matthoover.com normankent.com craigob.com theharryparker.com
BUY AND FLY A WINGSUIT