Wisdom the Albatross
Joined

Location

Midway Atoll, Pacific Ocean
Profile Images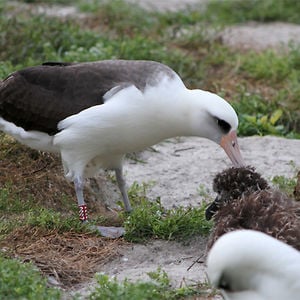 User Bio
I've earned my name… believe me. I'm a female Laysan Albatross and also the oldest known wild bird in the 90-year history of North American bird banding.
While many Laysan albatross take a year off in between their parenting… the 2013/2014 season is my 7th year in a row of nesting, which does demonstrate my superior parenting skills… and those certain attributes and superior abilities of my crazy beautiful partner.
Albatross like me mate for life… but my partner has remained a mystery to those you study me.
I can fly an average of 50,000 miles a year as they travel from breeding grounds near Hawaii to fishing grounds off the western coast of North American. That means I have flown between 3 MILLION+ MILES in my life.
There are several things that threaten 19 of the 21 species of albatross with extinction, from long-line fishing to introduced species, etc. But one of the most pervasive killers is PLASTIC debris. Adult albatross are mistaking small bits of PLASTIC in the ocean for food and regurgitating the plastic as a meal for their chicks.
Related RSS Feeds