You can call me Frances
Joined
Profile Images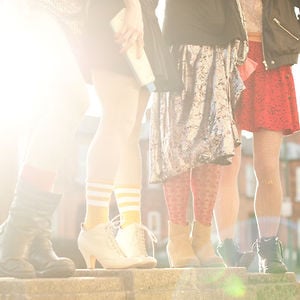 User Bio
You can call me Frances is a band of four dancers. Justine Cooper, Jessica Kennedy, Emma Martin and Áine Stapleton formed in Dublin in 2010 and taught themselves to play an instrument. They have a dark electro D.I.Y. sound, played on everything from a badminton racket to an electronic drum machine. You can call me Frances create a charged and theatrical performance driven by sound. They were awarded an artist residency at Dancehouse Dublin in 2010.
You can call me Frances have performed at: Electric Picnic Festival (2011), Body & Soul Festival (2011), The Pavilion Cork (2011), Project Arts Centre Space Upstairs and Cube (2010), Dublin 2010-12 – The Button Factory, RiRa, Monstertruck Gallery Space, The Village Upstairs and Downstairs, The Grand Social and ATRL Trinity College.

'Precisely because they turn their back on it all, they somehow mark themselves out -- with You can call me Frances . . . as the more likely inheritors of theatre on this island. Such an inheritance may not interest them, but you somehow feel it's theirs' Irish Theatre Magazine.
'I have waited over 10 years to be blown away by a performance that is just on its own for its originality and I am probably going to have to wait another 10 years before I see another like it . . . an outstanding piece of brilliance, creativity, energy and performance all rolled into one' Music Review Unsigned