Younes Baba-Ali
Joined

Location

Brussles & Casablanca
Profile Images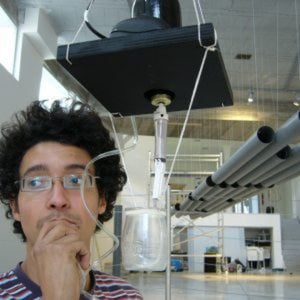 User Bio
Born in 1986 in Oujda (Ma), Younes Baba-Ali lives and works in Brussels & Casablanca.
Younes Baba Ali's practice is diverse. It goes over categorisations' endeavours and takes roots in various mediums ranging from the new technologies, to sound, video, photography and installation. Though a skilled user of all them, Baba Ali does not aim at emphasizing multimedia and technologies of information and communication, and/or at feeding the kind of blind admiration that justifies technique as a goal in and by itself. Conversely, his works seem to deal with unremitting exhaustion attempts that almost remind of a war, or guerrilla, strategy: "in order to undermine a system, it is first necessary to penetrate it". Thus, as an artist/engineer, Baba Ali masters the potentialities the technology era offers as an attempt to understand its complexity. At the same time, he subtly and often ironically interrogates the mechanisms of contemporary society while shedding light on its dysfunctions.
By implicitly approaching urgent issues such as the effects of the "Society of the Spectacle", the question of multicultural identities and religious clashes, the over-production and waste of whatever goods (from communication to plastic bags), the artist appropriates and interrogates the features and the tools of the present, globalised and rhizome-like, humans. In between amusement and consternation, his multi-faceted, though coherent, work confronts the viewer with a permanent show about the thin divide (or the irreducible coexistence) between intelligence and chaos.
Graduating from l'Ecole Supérieure des Arts Décoratifs de Strasbourg in 2008, and from l'Ecole Supérieure d'Art d'Aix-en-Provence in 2011, he was recently rewarded by the prize "Léopold Sédar Senghor", during Dak'Art 2012, 10th Biennial of contemporary African art. He has participated in several international exhibitions and biennials among them "Arrivi e Partenze", Mole Vanvitelliana, Ancona (It); "Dak'Art", 10th Biennial of contemporary African art, Dakar (Sn); "A5x2", MAAC, Bruxelles (Be); "Regionale 12", Haus für elektronische Künste, Basel (Ch); "Higher Atlas", 4th Biennial of Marrakech (Ma); "BJCEM" Biennial, Thessaloniki (Gr); "WRO 09" New Media Art Biennial, Wroclaw (Pl); "Sketch Gallery", London (Uk); "Brick & Mortar International Video Art Festival", Greenfield (Usa); "Loop" Video Art Festival, Barcelona (Es); "CEAAC", Strasbourg (Fr); "Arte Contemporanea Gallery", Brussels (Be); "Appartement 22", Rabat (Ma) and "Sabrina Amrani Art Gallery", Madrid (Es).
Related RSS Feeds