The number of subscribers to OTT services worldwide ballooned from 46 million in 2012 to 401 million in 2017, according to Statista, with a predicted growth to 650 million by 2021.  Today more and more video creators and distributors are taking their videos directly to their audiences, circumventing traditional TV distribution. Through proprietary OTT subscription apps, video creators and distributors are now able to own their content, audiences, monetization, and distribution on any screen without building their own platform from scratch.
What is OTT?
"OTT," or over-the-top, is just media jargon for delivering streaming video via the internet versus traditional broadcast TV. Via OTT, content owners can deliver video to their viewers across the web, mobile apps, and apps for TV set-top boxes (e.g. Apple TV and Roku), and make money by selling subscriptions to their service, selling individual videos, or serving ads. These platforms usually operate across digital and mobile apps on a pay-per-view or subscription basis. Between Netflix, Hulu, and HBOGo, you are probably an OTT subscriber.
Video creators and media distributors of all types previously could only build OTT or subscription services at a high technical cost with time-consuming upkeep, and few offered live streaming within the OTT functionality. Today, Vimeo OTT empowers anyone with videos and live events to seamlessly launch a subscription service, with all the tools and tech needed to grow a scalable video business.
Want an overview of our OTT platform? Watch the platform and live streaming demo below.
New: Live Streaming for OTT
Livestream joining the Vimeo family in 2017 allowed a unique opportunity to combine market-leading live streaming capabilities with Vimeo's existing OTT subscription service. Live streaming was the number one feature request of Vimeo OTT sellers, and Livestream customers have been yearning for a way to better organize, distribute, and monetize their videos.
Now, Live streaming for OTT allows you to stream live events and videos across the web, mobile and TV apps, drive audience engagement and track live video performance, and archive live events to make them available to subscribers.
Benefits of Live Streaming for OTT
Live streaming for Vimeo OTT gives creators and distributors a one-stop offering that combines quality live streaming capabilities with OTT distribution and monetization features to help build a robust and flexible subscription service.
Vimeo OTT already offers incredible tools to organize and sell videos across branded apps customized for you and optimized for each device (desktop, mobile iOS, Android, Roku, Apple TV, etc.). The 'live' element allows for opportunities to maximize audience engagement across sporting events, concerts, fitness classes, audience Q&As, and other live events (panels, screenings, etc.) to better reach audiences and grow your video business.
Here is how our new live streaming for OTT features work within your workflow, after you have your Vimeo OTT subscription streaming service up and running:
Streaming video on demand (SVOD, paid subscription or registration gateway): Create a subscription price for your videos and apps. This is a great way to build revenue around your videos – most users find they can double or triple profit-sharing revenue from other sites with dedicated, audience-driven subscriptions.
Scheduling: Go live or push your videos live at a specific, pre-set time.
Live stream to apps: Stream live to any of your Vimeo OTT supported apps (iOS, Android, tvOS, Amazon Fire) or desktop.
Live feed into OTT player: For broadcasters and media companies, you can now plug a live feed into your OTT app, delivery traditional "linear television"-style content to your audience.
Auto archiving: Live events will automatically appear on-demand with no additional upload.
Geo-blocking: For media license or rights that are geographically determined, this will allow you to block videos from certain countries so you can stay within the guidelines.
Analytics: Understand which videos – live and on-demand – are gaining traction, how long viewers watch for, where viewers watch from, and which videos are your most popular.

Coming soon:

Stream 24/7 live, linear broadcast-style videos
Pay Per View: Set up payments for one time live events or on-demand videos
Free access with registration for lead capture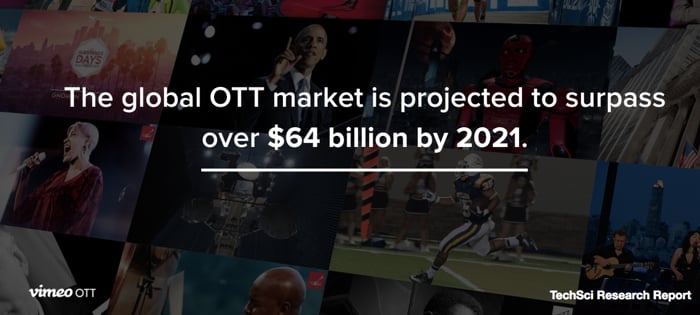 How to get started with Live Streaming for OTT
Vimeo's goal is to lower the barriers to entry so any video creator can reach and grow their audience. From fitness instructors and faith leaders, to enterprise brands and professional broadcasters – anyone with a digital audience can now organize, stream live, and build subscriptions for their videos all in one platform, without cobbling together several third-party platforms or relying on free social streaming platforms.
Having your branded video apps in app stores or on desktop allows your audience to consume and engage with your videos whenever, wherever. No matter the genre of videos you create, live streaming boosts that engagement even further, allowing you to connect with your audience in real time. Live streaming for Vimeo OTT is the ultimate solution for any video creator on Vimeo or Livestream looking to grow their audience with the best tools available.
To get started, visit our OTT page to get in touch with a specialist. If you're an existing Vimeo or Livestream customer, contact your account manager to discuss your options for Live Streaming for OTT.