Valentine's Day conjures different emotions for different people. It's ostensibly to celebrate love and affection, but over the decades the lens of consumerism has heightened the holiday's exclusionist aspects — from single people's sense of loneliness to the engineered niceties/necessities of cards, candies, and more. These practices were all derived from that initial conceit of loving each other, but have since mutated in unpredictable ways. Things that used to be chivalrous or sweet can now be seen as disrespectful or cheesy. They are mirrors of each other, but our views depend on which reflection we see — cute or cliché. For today's
Staff Pick Premiere
we selected the classic love story of Romeo and Juliet, but a modern retelling and uniquely powerful retooling of it set in Marseille, France with two young Africans in
Terence Nance's
"Univitellin." The title is from a French word for monozygotic, meaning "of the same egg," and is both representational and philosophical. The story follows Badara, a mechanic, and Aminata, a hairdresser, whose mother is a brusque traditionalist trying to quickly arrange her marriage. Badara is from the "wrong side of the tracks," but one day on the bus, they meet eyes — separated by a sea of white faces — and fall in love. From there the film suddenly shifts away from not only its realist storytelling, but also its traditional approach. Throwing away conventions, Nance takes us around the corner of the fourth wall, and into another dimension where French New Wave meets a cerebral version of Screen Junkies' "
Honest Trailers
." The next 69 hours are summed up in a montage of
Amelie
-style wit and whimsy, before setting the final act in motion. Nance succeeds in mirroring the lovers' idiosyncrasies and stories, but also, more interestingly and more literally via the film techniques he employs such as split screen, voice-over and montage. He states, "With this particular film I was attempting to walk the line of mocking/parodying the French New Wave film and paying tribute to it. I think that a lot of contemporary cinema is rooted in the language of French New Wave films and the kind of faux-demic cuteness/self-referentiality of it, so I wanted to call attention to how seeing love stories told using that language affects people as they fall in love in real life."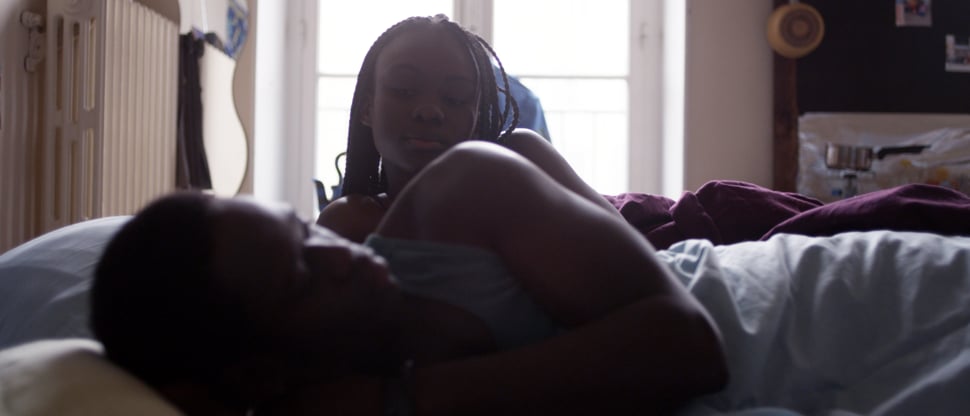 This is a film about a Romeo and a Juliet, and although Badara and Aminata don't know it yet, we already know how their love story ends. "Univitellin" shows that the couple's dark skin or immigrant identities shouldn't make them out of place, because they're not … they're simply a couple in love. It's these social and racial elements that inject new life into Shakespeare's story and Nance's singular style that gives it form and shape. A consummate examiner of culture and race (or as Nance puts it, "white supremacy," due to its specificity), he's created a stunning body of work tackling these heavier issues in wildly creative and varied forms. Not formally trained as a filmmaker, Nance grew up expressing himself through music, visual arts, and even acting. However, it's his film work that see him utilizing all of his talents: his incredibly personal feature debut,
An Oversimplification of Her Beauty
, his
music videos
, and a growing collection of short films like "
Swimming in Your Skin Again
," "They Charge for the Sun," and "
18 Black Girls / Boys Ages 1-18 Who Have Arrived at the Singularity and Are Thus Spiritual Machines: $X in an Edition of $97 Quadrillion
." Full disclosure: I was on the short film jury for the
San Francisco International Film Festival
last year and when we saw "Univitellin" we were compelled to award it the Grand Jury Prize. Nance's work is bold and often brash, but with a keen sense of zeitgeist so that he is able to effectively parody and skewer it. Next up for him is a recently greenlit six-episode project for HBO called "
Random Acts of Flyness
." Keep your eyes peeled.
Check out more of Vimeo's Staff Pick Premieres here.
If you're interested in premiering your short film as a Staff Pick Premiere, please check out www.vimeo.com/submit for more information.