The same way that filmmakers sometimes have to take on the role of director, editor, cinematographer (and sometimes actor!), they also often have to take on the task of perfecting the color of their videos. So if you don't have the funds to hire a specialist, you can still take advantage of the color correction and color grading tools that come with most major video-editing programs.
However, before you start playing around with your new grading software (like DaVinci Resolve or Adobe SpeedGrade) or just the built-in color correction tools (like Final Cut Pro or your neighborhood iMovie), you'll need to know some basics: like, what is the difference between color correction and color grading in the first place??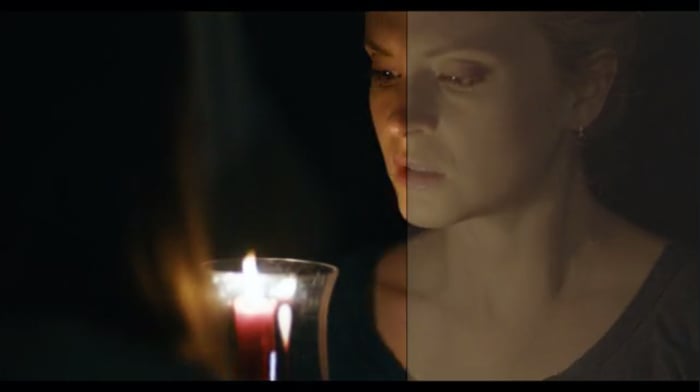 The terms 'color correction' and 'color grading' are often used interchangeably, but refer to different processes of editing color in video. Color correction is usually done first. This is because raw footage tends to be over-saturated and the colors need to be balanced out. The process of color correcting does just that, by making sure footage looks exactly the way that the human eye sees things. If the white and black levels match what the human eye sees as white and black, then the other colors should be balanced as a result.
Color grading is the next step, where you create the actual aesthetic of your video. But this is an entirely optional process, especially if the film is meant to be as realistic as possible. However, the right color grading does help convey a visual tone or mood to heighten the narrative. For example, you may use darker tones to elevate the storytelling in a horror film, as depicted in this color reel:
Try describing a color without referencing something you can see. It's pretty hard to do. And similarly, color-editing processes might be better understood through video. Luckily, videos are what we specialize in at Vimeo. Take a look at this concise, 30-second visual explanation of the differences between color correction and color grading:
Let's say you have a bigger budget production, though. You might be able to get a colorist, who can bring their refined training and expertise to better your film. Colorists take on a hefty role, as they usually put some of the final touches on a film. Not only do they help craft the look and feel of the story, but they also make sure that the shots throughout every scene match each other, keeping your visuals consistent.
But that just scratches the surface on all the wonderful things colorists help you do. Watch on for a more detailed (and cinematic) answer to the question, 'What is a colorist?'
Phew! We've tackled the major differences between color correction and color grading, and delved into a colorist's role. So what's next? The best thing to do is get out there and start experimenting. But we've got more in store to help you, too: we've got tons of do it yourself and editing lessons on Video School, and soon, we'll go over all the color-editing terminology that can help you on your filmmaking journey and serve as a cheat sheet. Until then, make vibrant color-filled things!