As I was leaving work last Wednesday, I got a call from an unknown number. On the line, I heard a cough and a "Hey, it's Danny … Danny DeVito." What?!? I was dumbfounded, but probably shouldn't have been since I'd been coordinating with his team about releasing his wonderful new short film Curmudgeons. But that call, right then, was unexpected. My surprise seemed to please him immensely, as he started to laugh and teased me for not having a tape recorder on hand.
Danny apparently loves to sneak up on people, and that's the case with this film as well. Curmudgeons, which Danny directs and stars in, is about a pair of senior citizens whose relationship causes tons of family strife, which the duo could not give a shit about. The film is so sweet and so crude that it seems to embody DeVito perfectly: for example, when I asked him "Are you or have you ever been a curmudgeon?" his response was a chuckle followed by "Absolutely." Today, the film makes its online debut and marks our first official Staff Pick Premiere.
Curmudgeons' writer Joshua Conkel told me, "If you walk with Danny in Manhattan, it takes 45 minutes to get anywhere because he literally stops for every person that calls out to him." It took me about five seconds on the phone to understand that. All of the Hollywood bullshit is out the window with him. In fact, the whole production of the short has a decidedly un-Hollywood vibe. That might be in part because this project was a labor of love and a family affair.
Danny came across the story of Curmudgeons while attending a night of one-act plays at the Ensemble Studio Theatre in New York, where his daughter Lucy was an acting member. Danny's longtime friend David Margulies happened to star in that one-act, and Danny and Lucy left the theater immediately wanting to turn it into a short film. But it wasn't until Danny's son Jake rounded up the whole team that they were able to move forward. In the end, Joshua adapted his play for the screen, David reprised his role, Lucy stepped in to play David's granddaughter, and Danny took on a role as director and co-star.
After premiering at the Tribeca Film Festival in April and traveling the festival circuit, Danny and his family were looking for a way to share the film with the world and they came to us. As luck would have it, we were in the early stages of designing our just-announced Vimeo Staff Pick Premieres program, so it made all the sense in the world to launch with Curmudgeons!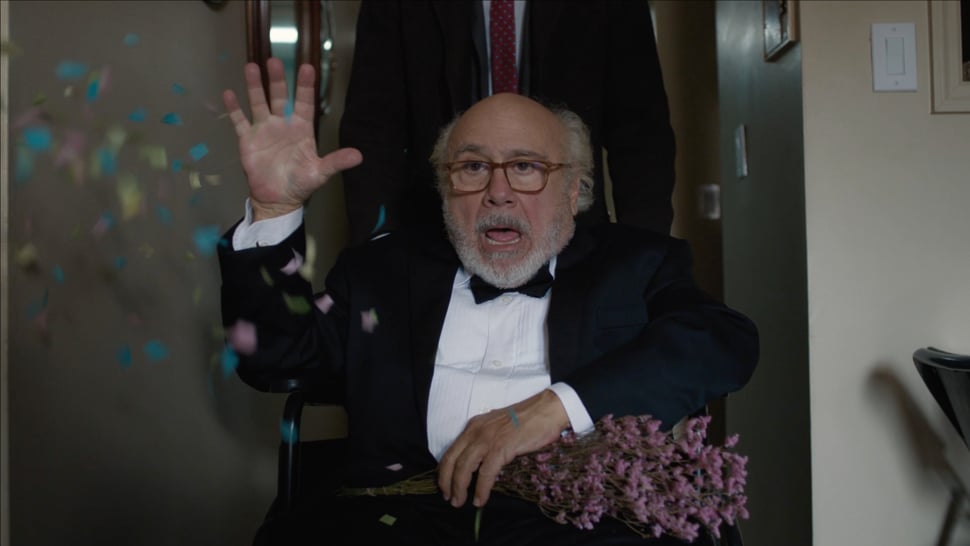 Vimeo: I've always loved the notion that when one gets old enough, they can say whatever they want without repercussion. Are you there yet? Or have you always been there?
Danny DeVito: I think that's what happens, but I've always operated that way. I try not to have any inhibitions or let things stand in my way. As you get older you get more secure with things, so you can be freer. You are with yourself at least, so in that respect you could use it as a crutch, like David [the protagonist] does in the movie. I mean, you have to still be respectful, because a lot of people are old farts who are curmudgeons — but not cool curmudgeons. You gotta be cool. Like, I've been a lifelong curmudgeon. I'm from New Jersey so I grew up doing the "ball break."
The what?
Ball break. It's like teasing, but it's giving people "the business" as they say. We called it ball breaking. I've always felt free about that, like having people on for stuff — such as how long it took you to call me back to do the interview.
Oh come on! It was one minute.
You weren't ready with the tape recorder, so I gotta break your balls.
It's not every day I expect to get a call from Danny DeVito.
You should have the tape recorder ready! Always.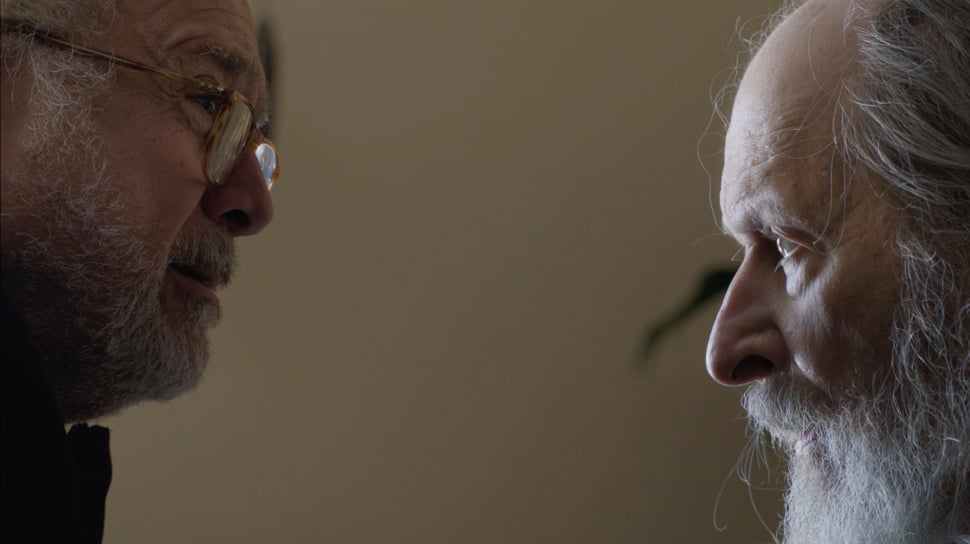 Could you talk a bit about working with your family throughout the filmmaking process?
It's great working with Lucy and Jake. The three of us have worked together on little things like these [Blood Factory] horror shorts. Lucy was in them and Jake has always helped me out with producing. Working with them is like working with everyone else. They were producing the show and I'm relying on them for many things. We've always gotten along in that way. We tell each other how we feel; we're very candid about the work. It was fun.
Do you interact with them the same way you do in the film? Just cursing and yelling and in the same breath saying how much you love them?
There's a great love between us, but it's also very serious. I'm the director and I want a lot more shots, and they're the producers saying, "Let's hurry up."

Did your kids always want to follow in your footsteps and work in show business? Or did you try to to convince them to become doctors, lawyers, or scientists?
No, I don't believe in that. You look at your kids and see what they're into. You observe. You don't push them one way or the other. You encourage what their desires are. If you're interested in movies and want to be a part of the community, I think it's a great thing. It's not the easiest business to be in, but nothing is really — you just have to love it.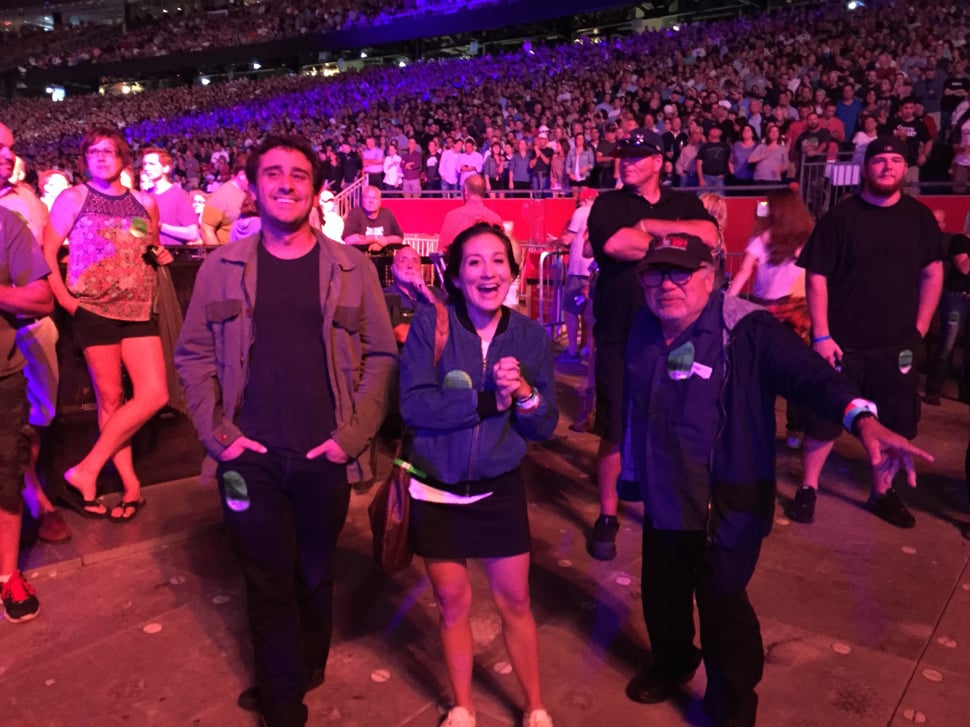 From left: Jake DeVito, Lucy DeVito, and Danny DeVito

How did you get David Margulies to be your love interest? Everyone's so perfectly cast, but he truly steals the show.
David and I [were] very close — if you know what I mean — for a very long time. The first time we worked together was 1968 or '69. We [did] off-Broadway together, he directed me in a couple plays in New York, and he was a dear friend. So I obviously pushed myself into a role too; I had to give myself a part. We had a good time doing it. We did love each other. Really genuinely.
Did he get an opportunity to watch the film before he passed away?
He did see the movie. When I was finished with the film, I had it on my computer and I brought it up to David in Manhattan. He was very, very ill. He was struggling — fighting for his life basically — and he got to see it. It was a great experience. It was just about finished, it didn't have the music in it yet, but everything else was there. He passed away shortly after in January.
Over the years you've amassed a huge body of work as an actor, director, and producer. How do you decide what role you'll take on when looking at a new project?
They all provide different satisfactions. It's not a simple thing though, because sometimes you're offered a role as producer only, sometimes to be in [it] and direct, etc. With Curmudgeons, we immediately loved the project [because it was about] how people have to be allowed to be free and do what they really want to do. To not to be dictated by some kind of precept of what's right in the world, especially when it comes to romance and your happiness. A lot of people try to stand in the way of people's happiness. That's the sort of thing that grabs me and I just go after it.
At Vimeo, we have historically supported and championed short films, so it's always refreshing to see when a giant in the industry keeps coming back to the form. What brings you back to shorts?
It's a great form. I've done it before, I love it. Sometimes you read a screenplay that's 190 pages or whatever it is and you go, "Wait a minute, this story can be told in 20 minutes." In this case it was the perfect way to send this story out. It's got a lot of happiness in it, a lot of compassion in it.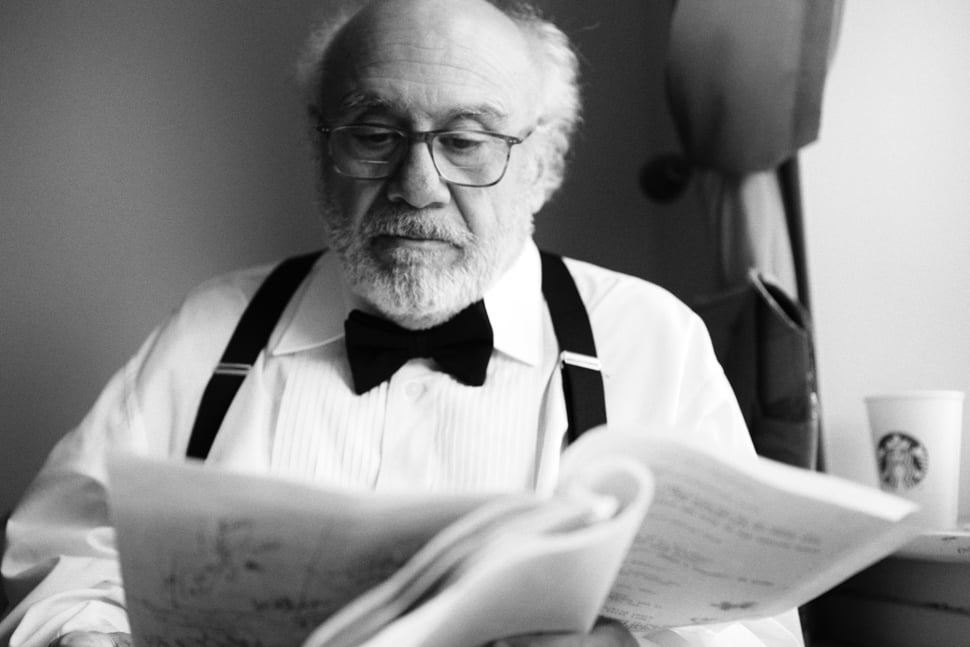 Curmudgeons isn't overtly political, but thematically it is. Was it your intention to use film as a political medium?
I think it's a great tool, but it's about what the intentions and objectives are [for] the writer and I. I think it's very powerful though. When I saw The Battle of Algiers, which was in 1966, that was an endemic, valuable, impressionable, political movie about the struggle of the Algerian people with the French. It was made by [Gillo] Pontecorvo and was one of the movies that really got me thinking about directing. There was no documentary footage in it, but it was very realistic and very moving, so it politicizes you and makes you aware of human rights. What's going on in Curmudgeons is a human right too: David should be allowed to do what he likes. He shouldn't be discriminated against by his family or anybody, so it is a strong political statement.
I was totally smitten when I saw The Battle of Algiers, I wanted to know everything about making movies. It moved me. It was the first time I realized, "Wow, I've been watching movies all these years. What does it take to put one of these things together and who does what?" It was a real seminal moment for me.
One of your earliest directorial efforts, The Selling Of Vince D'Angelo, is a biting satire on a political system entrenched in corruption. Its similarities to the current election cycle are striking (and the line "What the hell you got to lose?" was even repeated verbatim by Donald Trump). Do you think the lines between show business and politics have blurred?
Wow, that was one of my early ones. All of my friends are family are in that movie. Man, there's that line … Donald Trump … crazy. "What the hell you got to lose?" We don't want anybody discriminating against people in the world. That's a very harsh thing. You want people that are considerate of other folks. You can't just scapegoat people, which is what I think is going on.
It's scary when a satire says, "What the hell you got to lose?" But in real life you have everything to lose. You're like, wait, this is not a joke.
Yeah, it's not. We have to be diligent and careful. The more of that we have in the world, the better we are. We don't need the dismissive pitting one person against each other. We're all Homo sapiens, we have certain flaws, but we have to embrace the good stuff. When you see that you know it — whether you're talking about a pipeline, oppression, or things where people aren't respecting people's rights. You have to react and we have to be together on that. We are all evolving, but it's taking a while. Hopefully we'll all stick together and make a better place to live.
Amen.
Amen, baby.
Check back next week for an exclusive interview with 'Curmudgeons' writer Joshua Conkel.
If you're interested in premiering your short film as a Staff Pick Premiere, please check out vimeo.com/submit for more information.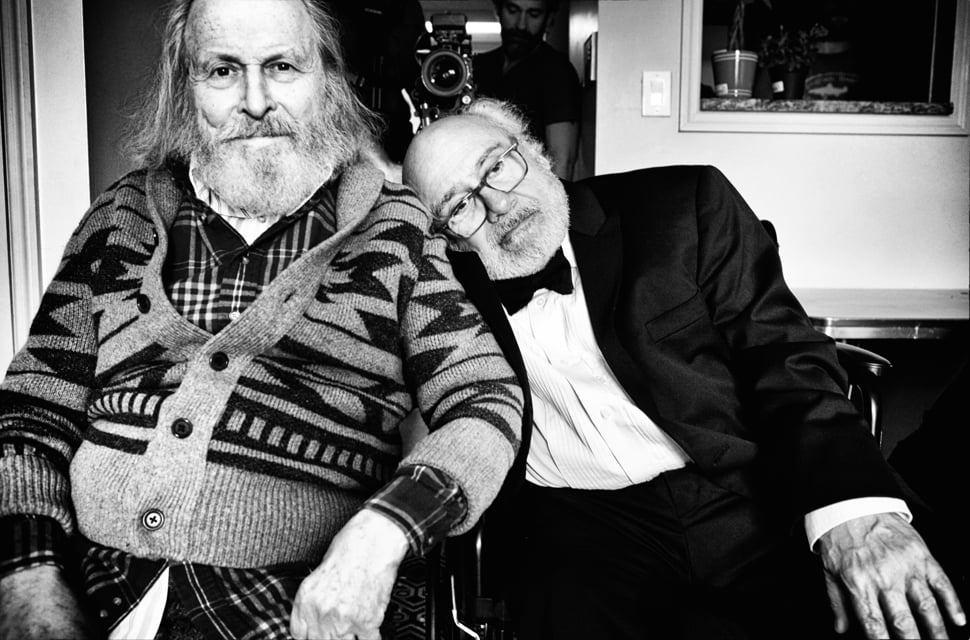 <
p class="txt_align_center">David Margulies and Danny DeVito